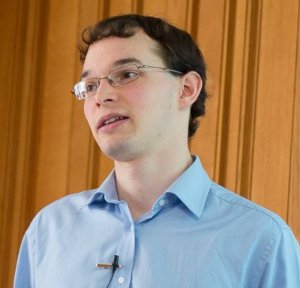 Photo is from 2014-03-20 by Quentin Stafford-Fraser
Contact
Email: firstname.lastname@cl.cam.ac.uk
Telephone: +44 1223 763 748
GPG: 5017 A1EC 0B29 08E3 CF64 7CCD 5514 35D5 D749 33D9 (work)
EA14 782B FF32 D5B8 464B 92D7 B2FB 14CF 18EB 83B1 (home)
I have an (outdated) personal home page and blog. Research is blogged on Light Blue Touchpaper.
Research
My interests are in measuring security and cybercrime so that we can monitor improvement, evaluate interventions, and inform regulators.
I am a Research Associate and Affiliated Lecturer at the University of Cambridge and an Honorary Research Associate at Peterhouse, Cambridge. I am a member of the Digital Technology Group, the Security Group, and the Cambridge Cloud Cybercrime Centre.
I maintain the Android vulnerabilities website, information on the deployed version distribution of Android and help with the Device Analyzer project.
Publications
Reports
Presentations and posters
Reviewing
I have reviewed papers for: ACM SIGCOMM Computer Communications Review (CCR), Journal of Internet Services and Applications (JISA), Mobile and Ubiquitous Multimedia (MUM) 2013, Ubicomp 2014, Transactions on Information Forensics & Security (2017), Transactions on Software Engineering (2017), The Computer Journal (2018) amongst others. I am co-editor for the Frontiers Research Topic on Big Data Ethics. I have reviewed a funding proposal for University of Luxembourg's internal call.
Collaborators
Listed alphabetically for my ease of reference (updated 2018-10-20). Active: Ross Anderson, Alastair R. Beresford, Sara Correia, Richard Clayton, Katherine Fletcher, Alice Hutchings, Sergio Pastrana, Jovan Powar, Jair Santanna, Diana A. Vasile, Alexander Vetterl, Helena Webb
Previous: Andrew Rice
Teaching
Supervising
I supervise various courses. I also have some project ideas.
Lecturing
I am one of the course lecturers for the R209 Computer Security: Principles and Foundations, R210 Computer Security: Current Applications and Research, and R254 Cybercrime MPhil courses in security.
In 2018 I lectured Security II: Part 2: Security engineering covering security, human factors, and psychology; security policies; authentication; and network security.
I gave one lecture on LaTeX for Markus Kuhn's Unix Tools course in November 2013.
I gave one lecture as part of the Research Students Lecture series in 2014 and 2015.
University Politics
I am a member of the University's Cycling and Walking working subgroup. I co-founded the West Cambridge Active Travel (WCAT) group.
I used to represent the PhD students to the Staff-Student Consultative Forum and the Faculty Board. I used to represent PhD students in the Digital Technology Group to the Graduate Student Forum.
I had a Level 2 Award in Food Safety in Catering which means that I could run various food based events in the department.
Declarations of interest
I have received funding from various organisations, I try not to let that influence me but in the interest of transparency details follow.
From October 2016 I have been funded by the EPSRC through the Cambridge Cybercrime Centre
From October 2015 to Septembr 2016 I was funded by ThreatSTOP
I the EPSRC Doctoral Training Account of the Computer Laboratory funded the second and third years of my PhD
The first year of my PhD was funded by Google
My year as a Research Assistant was partly funded by Google
I spent a summer working for Broadcom
I have been both a student and a mentor on the Google Summer of Code
I spent a summer as an on an Undergraduate Research Opportunity (UROP) placement funded by BT
GCHQ/NCSC has provided small amounts of money to attend conferences and buy books or servers.