Computer Laboratory 75th Anniversary
Poster competition
A range of posters showcasing research in the department were displayed throughout our 75th Anniversay Celebrations. There was an opportunity to discuss the researchers' work informally during the day. This page summarises the posters on display at the event.
All attendees were offered the opportunity to vote on the best poster paper, and prizes were awarded on the basis of the vote. The results were: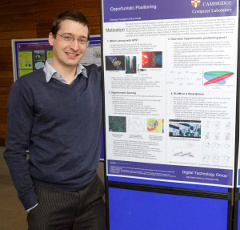 Winner

Ramsey Faragher, for his poster Opportunistic positioning. He received a signed book and £1000 to spend on research and travel.

Joint Runners up

Sergei Skorobogatov, for his poster Silicon scanning reveals hidden backdoors in semiconductor chips; and
Anastasios Noulas with Human urban mobility in location-based social networks: analysis, models and applications.
They each received a book and £500 to spend of research and travel.
---