Dr. D J Greaves.
Contact details: D J Greaves, MA, PhD, MIET.
Relevant research groups:     Systems Research Group,     Computer Architecture Group,     Programming Research Group,
David Greaves, PhD, MIET, is a University Senior Lecturer interested in compiler and hardware design. He has considerable industrial experience at the CTO/Chief Scientist level and has led the design of many hardware systems, including semi-custom VLSI design.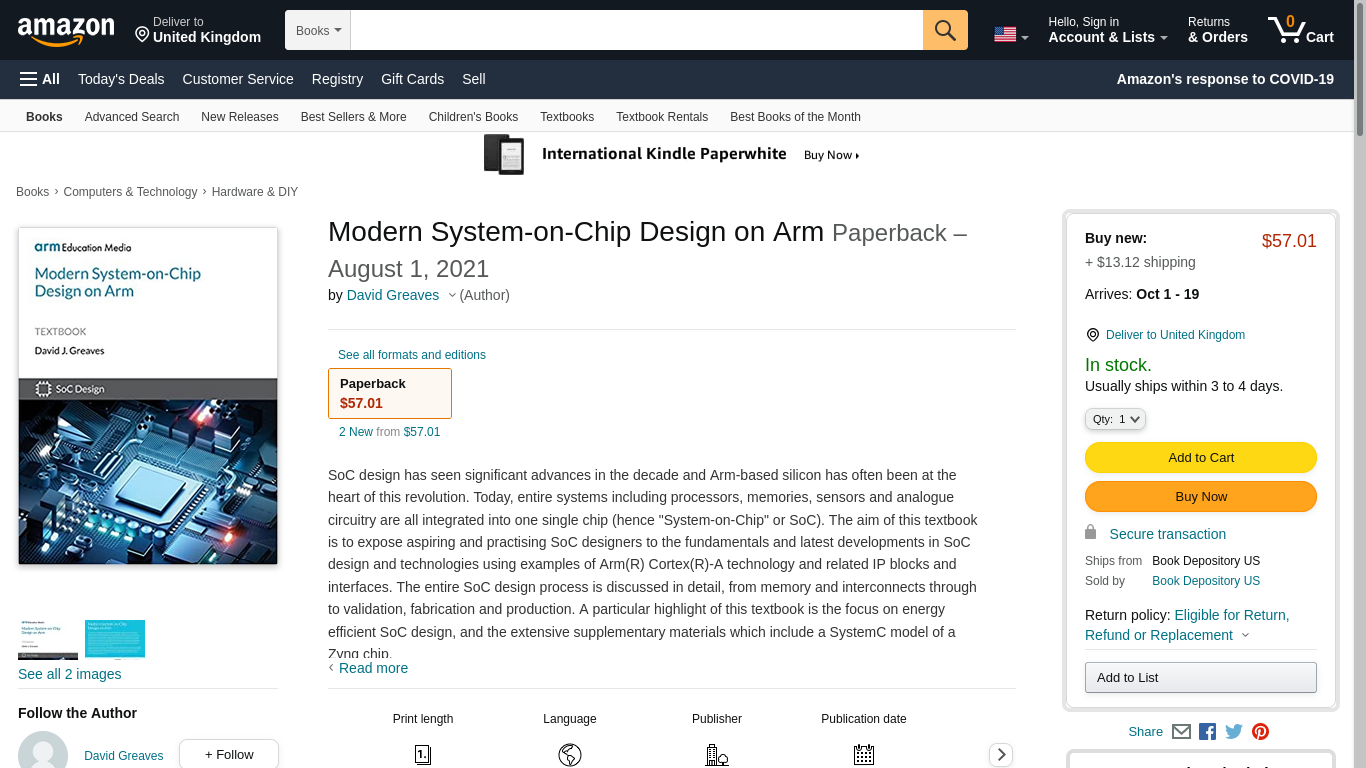 DJG Summer 2021 textbook on Amazon: Arm Modern SoC Design ISBN 978-1-911531-36-4 Title Pages (or download PDF free from Arm).
Lecture Notes: System On Chip Design and Modelling (PDF).     BIGGER PDF.
Major Achievements From Past Decades:
Please click: PROTO MEMOIRS.
Current Activities:
Quote of the day: 'Although there is no accepted taxonomy of high versus low-level languages for hardware design, we can roughly relate a gate-level net list to machine code, RTL to assembly language, hardware construction languages such as Chisel and Lava as low-level languages and anything that makes automatic assignment of work to clock cycles as high-level languages.' --- DJ Greaves.
New PhD Students
I am expecting to take at most one new PhD student a year in the area of special-purpose or unusual compiler tools, especially those generating hardware or parallel implementations of a high-level work description.
Future Activities:
IP block machine-readable datasheets for incremental HLS and verification: CARDs proposal.
A new System-Level Description Language (SLDL) for EDA, including the best parts of the H2 temporary language.
Draft items, yet to be published: LINK.
Activities:
Older Research Areas     Conference Program Committees     Recent Publications     Unpublished Drafts     Minor Research Notes     Phd Students     Undergraduate Teaching     Miscellaneous Projects     System Design Methodology
External Affiliations
DJG is a Subject Editor of IET Electronics Letters. DJG is external examiner at Imperial College, Dept of Electrical and Electronic Engineering.