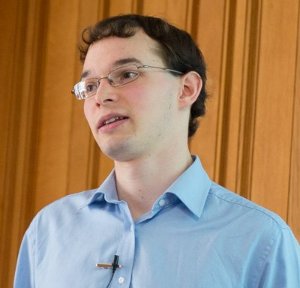 Photo is from 2014-03-20 by Quentin Stafford-Fraser
Contact
Email: firstname.lastname@cl.cam.ac.uk
Telephone: +44 1223 763 748
GPG: 5017 A1EC 0B29 08E3 CF64 7CCD 5514 35D5 D749 33D9 (work)
EA14 782B FF32 D5B8 464B 92D7 B2FB 14CF 18EB 83B1 (home)
I have an (outdated) personal home page and a blog
Teaching
Supervising
I do a fair bit of supervising of various courses. I also have some project ideas.
Ticking
I currently tick ML, Programming in Java, and Further Java.
Lecturing
I have done a small amount of lecturing: I gave one lecture on LaTeX for Markus Kuhn's Unix Tools course in November 2013.
I will be giving one lecture as part of the Research Students Lecture series in Easter 2014.
Research
I run the mobile security reading group with Alastair Beresford
I am working on the Nigori protocol with Alastair R. Beresford and Ben Laurie.
I maintain the Android vulnerabilities website, information on the deployed version distribution of Android and help with the Device Analyzer project.
I am interested in Cryptography and have a page with notes including some DSA parameters.
Presentations and posters
Publications
University Politics
I represent the PhD students to the Staff-Student Consultative Forum and the Faculty Board. I represent PhD students in the Digital Technology Group to the Graduate Student Forum.
I have a Level 2 Award in Food Safety in Catering which means that I can run various food based events in the department.
Declarations of interest
I have received funding from various organisations, I try not to let that influence me but in the interest of transparency details follow.
I am currently funded from the EPSRC Doctoral Training Account of the Computer Laboratory
The first year of my PhD was funded by Google
My year as a Research Assistant was partly funded by Google
I spent a summer working for Broadcom
I have been both a student and a mentor on the Google Summer of Code
I spent a summer as an on an Undergraduate Research Opportunity (UROP) placement funded by BT
Much of this was done with either Andrew Rice or my current supervisor Alastair R. Beresford