Team from the Computer Laboratory wins £50K Business Creation Competition
BOPPHY Technologies, founded by Dr Inaki Berenguer and Stavros Tsiakkouris from the Digital Technology Group in the Computer Laboratory together with Michele Palazzi, Prof Xiaodong Wang, Dr Mohammad Madihian and Prof Jon Crowcroft is named winner of the Cambridge University Entrepreneurs' £50K Business Creation Competition. The other two winners are EnvAl and Cambfix.
BOPPHY Technologies is a fabless semiconductor company designing innovative integrated circuits to enable broadband communications over existing power lines. Power line communications (PLC) is the promising technology that can transform every power outlet into a high-speed gateway to the Internet. The technology is particularly useful in rural areas and in developing countries where there are many more power lines compared to telephone lines. By exploiting leading edge coding and modulation techniques the founders have developed a solution that can substantially improve performance compared to existing systems.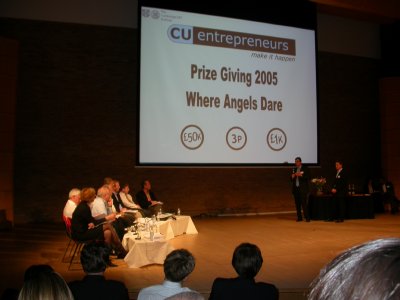 Stavros and Inaki pitching to the angels
The winning team brings together individuals from both academia and industry with a diverse set of backgrounds, supported by a strong technical advisory board. Dr Inaki Berenguer's research is focused on signal processing for communication systems, Stavros Tsiakkouris is working on RF and network integration, Prof Jon Crowcroft is the Marconi Professor of networked systems in the Computer Lab, Michele Palazzi brings a decade of industrial experience in the design of integrated circuits, Prof Xiaodong Wang from Columbia University specialises in communications theory, and Dr Mohammad Madihian is department head of NEC Laboratories America.
In a change to the competition format this year, the winners had to bid for funding in front of a panel of business angels including Hermann Hauser, Andy Richards, Robert Sansom, David Cleevely, Sherry Coutou, and Doug Richards. After giving their five minute pitch, BOPPHY Technologies received a personal invitation from Dr Hermann Hauser, co-founder of Acorn Computers, ARM, and Amadeus Capital Partners, to go and present their idea to Amadeus Capital Partners, a venture capital company specialising in high-technology investments.
Stavros, Michele, and Inaki working on the business plan
The £50K Business Creation Competition was set up at the University of Cambridge in 2000, inspired by the highly successful $50K Competition at the Massachusetts Institute of Technology (MIT). Since then it has distributed more than £200,000 in prize money and spun out more than 18 companies headed by students and other University members, with the support of sponsors including the Cambridge-MIT Institute (CMI), the Cambridge Science Park and ARM. The CUE business creation competition is now the leading student enterprise competition in the UK.
During the eight months course of the competition, students receive a significant amount of support, as well as intensive business training and mentoring from the University's Centre for Entrepreneurial Learning and Cambridge Enterprise. The scheme aims to help them hone their business plans and encourage them to turn their ideas into commercial reality.
The team members of BOPPHY Technologies will have a chance to present their idea in June, when the winners of both the CUE business creation competitions and the MIT $50k competition will get together for the 5th Annual Gala Dinner at the Guildhall in London on Tuesday 14th June. This event gives the entrepreneurs a chance to pitch their ideas to a wide audience, including a number of business angels, venture capitalists and entrepreneurs.