Teaching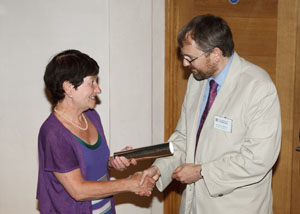 Vice Chancellor Alison Richard awards
Pilkington Teaching Prize to Simon Moore
Pilkington Teaching Prize
Simon Moore won the University of Cambridge's prestigious Pilkington Teaching Prize in 2010 for excellence in undergraduate and master teaching.
Current courses
Computer Design - an 18 lecture course (+4 lectures delivered via the web) which cover Electronic Computer Aided Design (ECAD) and computer architecture. For further details, see the:
I used to teach Advanced Computer Design - a Master's level course for the Advanced Computer Science (ACS) MPhil. For further details, see the:
I used to teach Digital Electronics and setup new laboratory sessions which are still in use. See the course web page for further details
Undergraduate Student Projects
Some project suggestions.
I have also prepared an example LaTeX2e project report to help people get into LaTeX, a wonderful typesetting system.
Masters (ACS) Projects
Examples
I am building up a collection of teaching examples which go beyond what I current provide openly from my teaching activities.
Trinity Hall
I am the Director of Studies in Computer Science at Trinity Hall.
Historical
I had two collaborative projects with MIT called CODEX and Sudden Impact which funded work on an interactive Verilog tutor and provided laboratory facilities and material for the Computer Design course and associated laboratories.