women@cl 10th Anniversary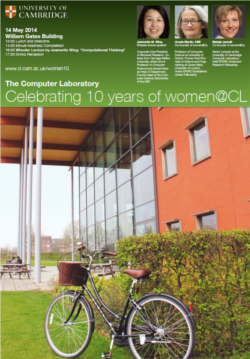 Minute Madness Competition
The Computer Laboratory is celebrating the 10th anniversary of women@CL on Wednesday 14th May, 2014. This event will celebrate the initiatives run by women@CL, and showcase the variety of cutting edge research that women are doing, culminating with the Annual Distinguished Departmental Wheeler Lecture given by Jeannette Wing, Corporate Vice President of Microsoft Research.
The idea for the Minute Madness presentations is that speakers present in 60 seconds the essence of their research, and they can only use 1 slide. This will then lead to further informal discussions and networking during the break sessions.
What we would like the speakers to convey is:
"What is the question that you are addressing in your research and why?"
There will be prizes for 3 different categories for junior researchers (PhDs and Post-docs): the most effective, the most inspiring and the most entertaining presentation. The prize for each winner will be iPad Air. There will be a token prize for best presentation by a senior researcher.
First Session (LT1, 14:00)
1. Zhen Bai, University of Cambridge
    Augmented Reality Interfaces for Symbolic Play
2. Ntombi Banda, University of Cambridge
    Multimodal Emotion Recognition in Learning Environments
3. Shima Barakat, JBS
    Making the WISE more Enterprising
4. Polina Bayvel, UCL
    Redefining the capacity limits in the battle for bandwidth
5. Agata Brajdic, University of Cambridge
    VapourTrail: Infrastructure-free Indoor Localisation with Smartphones
6. Satinder Gill, University of Cambridge
    Entrainment and Musicality in the Human-System Interface
7. Desi Hristova, University of Cambridge
    Multilayer Geo-Social Networks
8. Zongyan Huang, University of Cambridge
    Applying machine learning to choose the variable ordering for cylindrical algebraic decomposition
9. Alice Hutchings, University of Cambridge
    Clean socks and fresh fullz
10. Vaiva Imbrasaite, University of Cambridge
      Emotion in music
11. Mateja Jamnik, University of Cambridge
      Humanising Computer Problem Solving
12. Georgia Kalogeridou, University of Cambridge
      NetFPGA, The Flexible Open-Source Networking Platform
13. Sheharbano Khattak, University of Cambridge
      The impact of Internet censorship on the Internet ecosystem
14. Ekaterina Kochmar, University of Cambridge
      When Writing Matters
15. Dina Kronhaus, University of Cambridge
      Brain the size of a planet or How to depress a brain network (in 60 seconds or less)
16. Agnieszka Madurska, Google
      Tech and culture
17. Cecilia Mascolo, University of Cambridge
      Would you use your phone as medicine?
18. Natasa Milic-Frayling, Microsoft Research
      Sustaining the life of digital
19. Negar Miralaei, University of Cambridge
      Prevent Ageing, Delay Wear-out
20. Emma Towlson, University of Cambridge
      How 'rich' is your brain?
21. Cecily Morrison, Microsoft Research
      ASSESS MS: Supporting the Clinical Assessment of Multiple Sclerosis using Kinect

Second Session (LT1, 15:00)
22. Ulku Buket Nazlican, University of Cambridge
      Facebook Privacy Settings
23. Annalisa Occhipinti, University of Cambridge
      Can a Mathematician help a Doctor?
24. Helen Oliver, University of Cambridge
      The HAT Project
25. Rosemary Francis, Ellexus
      Breeze: Application Deployment and Profiling for Linux
26. Jeunese Payne, University of Cambridge
      Pico: No More Rejection
27. Flora Ponjou Tasse, University of Cambridge
      Partial 3D Shape Retrieval
28. Sriipriya G, DRisQ Software systems
      Using programming abstractions to engineer parallel mechanised reasoning systems/theorem provers
29. Naruemon Pratanwanich, University of Cambridge
      Drug Recycling
30. Sophie van der Zee, University of Cambridge
      Optimal gaming performance: Does drunk-driving also increase accident rates when playing computer games?
31. Jingjing Shen, University of Cambridge
      Watertight Shape Modelling
32. Arabella Sinclair, University of Cambridge
      Discourse Structure in Narrative Texts
33. Simone Teufel, University of Cambridge
      Finding Discourse Structure in Unstructured Texts
34. Theodosia Togia, University of Cambridge
      What lies beneath the tag cloud?
35. Tamara Polajnar, University of Cambridge
      Making Sense of Sentences
36. Eva Vecchi, University of Cambridge
      Computational Nonsense
37. Petra Vertes, University of Cambridge
      A network of network scientists
38. Helen Yannakoudakis, University of Cambridge
      Write & Improve! A tool for automated writing feedback
39. Eiko Yoneki, University of Cambridge
      Massive Graph Data Processing with a Laptop: Google needs terabytes of RAM, but we don't!
40. Yoli Shavit, University of Cambridge
      Tools for exploring the 3D genome
41. Noa Zilberman, University of Cambridge
      NetFPGA SUME: Making 100Gb/s a Research Commodity