Computer Laboratory Research Students Fund
The Laboratory is an international leader in computer science and technology research. We get the best students, worldwide, applying to do PhDs with us. We want to be able to fund more of them.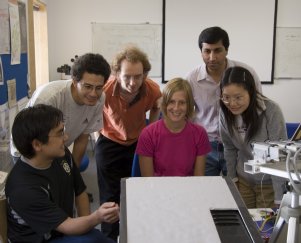 PhD students are vital to the Laboratory's research. They are the creative base on which it is built. As they develop and test new ideas, PhD students stimulate the Laboratory's larger research effort and contribute to the advance of the field we aim to achieve. We have enterprising research staff wanting to take on more students, the space to house them, and the technical facilities for their work. But we need money to support more of the top-flight doctoral students who seek to come here.
Funding from external sources is variable and often limited. We want to be able to offer our own student funds to the best students from here and elsewhere, to give them, and us, the freedom to develop new research areas. Research students cost, in fees and living expenses, about £25,000 per annum. With half a million pounds capital we can provide full support for one student, or material support for three, in perpetuity: this will make it easier for the students we want to come here.
We intend to build our Research Students Fund to celebrate the 70th anniversary of our foundation, in 1937, as the Mathematical Laboratory, as well as to mark the University's 800th Anniversary in 2009. Help us to ensure that the Laboratory remains at the forefront of the field, so that Computer Science and Technology get the top-quality players they need.
The Laboratory's Appeal is one of the projects in the University's 800th Anniversary Campaign portfolio.
News