Lucian Carata
About me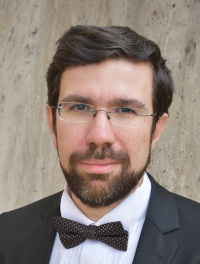 I have started my PhD in the University of Cambridge Computer Laboratory in October 2011, as a member of the Digital Technology Group. I am supervised by Professor Andy Hopper and work closely with Dr. Ripduman Sohan in exploring the research area of provenance, looking at building systems for tracking the history and inter-dependencies of pieces of data as they are produced or consumed in arbitrary computational workflows.
My PhD research is funded by UK's EPSRC, by a CHESS Scholarship, and by a Computer Laboratory Departamental Scholarship.
I am a member of Wolfson College.
Research
My research interests span the following topics:
Data provenance, which is the topic of my PhD research. The central idea that I put forward is the fact that applications can query fine-grained provenance (the history of where each piece of data comes from together with its dependencies) in order to understand the causes of erroneous or unexpected execution states.

A primer on provenance. Lucian Carata, Sherif Akoush, Nikilesh Balakrishnan, Thomas Bytheway, Ripduman Sohan, Margo Seltzer, and Andy Hopper (2014). Communications of the ACM, 57(5), 52-60.

Resource accounting and monitoring: I am also working on a fine-grained kernel-level resource accounting framework that allows applications to gain a better understanding of the resources consumed (either synchronously or asynchronously) by kernel activities. This gives a detailed, per kernel subsystem view of the resource usage of particular system calls and of how this varies in the presence of workloads that compete for the same resources. The resulting accounting data can be aggregated according to application semantics (e.g. resources consumed over servicing a client request).
Automated configuration of distributed systems: My intrest in this area is in understanding how certain configuration parameters are propagated/used in a loosely coupled system, and how having this information can help establishing automated feedback control loops in order to keep fulfilling SLAs even in the presence of errors (for example, during failed service updates and on human configuration errors).
The overarching goal of those research interests is the understanding and automated control of complex systems and of their performance during unexpected situations (such as chain failures).
Supervisions
I supervise the Algorithms and Computer Graphics and Image Processing courses.
Michaelmas 2014: CGIP (IB), 4 supervisions/group [details coming soon]
Experience
I have previously been an intern at both Microsoft (2010) and Google (2013), where I have worked in infrastructure teams dealing with performance evaluation and service configuration, respectively. My time within both companies has helped me gain valuable experience and a better understanding of real-world requirements at scale. This continues to drive my passion towards doing research that has a real impact and solves challenging engineering problems.
I have graduated (B.Eng.) as valedictorian from the "Gh. Asachi" Technical University of Iasi, Romania. My bachelor thesis dealed with real-time object recognition in video streams using interest point detectors. I have obtained a M.Sc. in Distributed Systems from the same university, with a research stint in the Institute of Computer Graphics and Algorithms from the Vienna University of Technology, during an ERASMUS Scholarship.
DTG