John Sylvester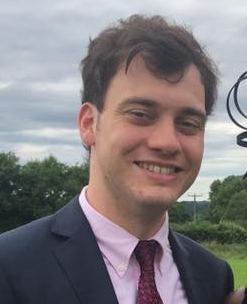 I am a Research Associate at the Department of Computer Science and Technology working with Thomas Sauerwald.

Before coming to Cambridge I was a PhD student at the University of Warwick under the supervision of Agelos Georgakopoulos.

Before that I studied Mathematics at University College London.
Contact Details
---
Dr John Sylvester
University of Cambridge
Computer Laboratory
15 JJ Thomson Avenue
Cambridge CB3 0FD
United Kingdom


| | |
| --- | --- |
| Email: | firstname.lastname (snail symbol) cl.cam.ac.uk |
| Office: | FC01 |
Research Interests
---
Markov chains and random processes on graphs.
Random graphs.
Randomised and distributed algorithms.
Publications and Preprints
---
Recent talks
---
Contributed Talk, 28th London Stringology Days & London Algorithmic Workshop, Kings College London, 6 Feb 2020
Conference Talk, 11th Innovations in Theoretical Computer Science conference (ITCS) Click for VIDEO!, Seattle WA, USA, Jan 2020
Contributed Talk, Random Structures & Algorithms, ETH, Switzerland, 15 July 2019
Conference Talk, 31st Symposium on Parallelism in Algorithms & Architectures (SPAA), Pheonix AZ, USA, 22 June 2019
Contributed Talk, STAR Workshop on Random Graphs, Uni of Groningen, Netherlands, 11 April 2019
Invited Talk, Combinatorics Seminar, Uni of Warwick, 12th Oct 2018
Invited Talk, MASDOC Retreat, Peak District, 29 April 2018
Invited Talk, Warwick SIAM-IMA Conference, Uni of Warwick, 15 November 2017
Teaching
---
Lent term 2019/20: Part II course Probability and Computation
04/11/19-08/11/19: Mathematics: Chaos or Clear Cut? - Inspiring exellence course at Villiers Park Educational Trust, Cambridgeshire