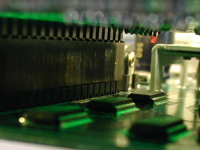 ECAD and Architecture Labs are Hardware practicals designed for Part IB Computer Scientists


News
4-Nov-2005 - there is a problem with the installation of AXD, see the Trouble Shooting Page for a work around.















and



Acknowledgements:
Many thanks to Philip Wise and Gordon Williams for designing the IO board and much of the laboratory material during the summer of 2003. Thanks are also due to Daniel Gordon (Cambridge) and Prof Steve Leeb (MIT) for collaborating on the project. To Rosemary Francis and Daniel Hulmn for updating the labs in 2004. To Altera for funding all four summer students and providing kit at low cost, and CMI for funding Daniel and paying for some of the development.
Simon Moore