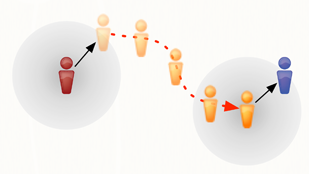 Call for Posters (and Demos)
The poster session will provide a forum for researchers and industry to showcase new and emerging work and obtain feedback from workshop attendees. Topics of interest include, but are not limited to:
Security and privacy
Trust systems based on social networks
Mobile social networks
Network science for design and development of wireless/sensor networks
Self-organisation and synchronisation in living systems
Bio-inspired networks and robotics
Large scale social data analysis and knowledge discovery
Temporal analysis of social networks
measurement and analysis of online communities
Mobile social networks
Diffusion and viral propagation in online social networks
Economic models for online social networks
Social gaming applications
Implications of social networking on network and distributed systems design
System design for social networks
Network architecture design to support large-scale social applications
Information sharing and forwarding
Leveraging the social graph in systems design
Crawlers and other mechanisms for observing social network structure
Measurement and analysis, including comparative analysis
Tools for designing and deploying social networks
Network dynamics, relationships between network links and user behaviour
Benchmarks, modelling, and characterization
Decentralization: methods for integrating multiple networks
Application programming interfaces (APIs) for social networks
Poster Submission Instructions:
Please submit an extended abstract (no more than 1 page or 800 words) of your poster as a PDF e-mail attachment to social-nets at cl.cam.ac.uk with the subject line reading [SOCIALNETS POSTER SUBMISSION] before the deadline. Please be as specific as possible in describing what you will show. The email should include the following information:
Names and affiliations of authors
Title of the poster
Email address of the contact person
Poster size:
The maximum poster size should be A0.
Important Dates:
Extended abstract due date: 11:59 pm (PDT), November 10, 2010
Notification of acceptance: November 12, 2010
Workshop date: November 18, 2010