ECAD and Architecture Practical Classes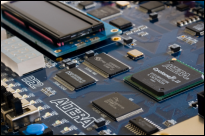 ECAD and Architecture Labs are Hardware practicals designed for Part IB Computer Scientists.
Overview
These laboratory sessions will introduce you to a typical work-flow for hardware development on the tPad FPGA board.
The Labs have been designed to be undertaken in conjunction with the Computer Design course for Part IB students. They require knowledge gained from this course - mostly SystemVerilog and a processor covered in the course. It is strongly recommended that you look over the Labs before attending them, since you will only have a fixed amount of time with a demonstrator present to complete the practical.
Supported by


Prerequisite Learning

Background Information

Laboratory Work

Additional Information