Official Opening of the William Gates Building

---

The Computer Laboratory has moved to new accommodation at West Cambridge!

The official opening of the William Gates Building will be on Wednesday 1st May 2002, starting at 13:30 for 14:00. The ceremony will be performed by Professor Sir Maurice Wilkes, and during the afternoon there will be a programme of talks and demonstrations, with closing refreshments served at 17:45.

Places at the opening are limited and by invitation only. Computer Laboratory alumni are being invited and we have tried to trace as many as possible. Computer Laboratory alumni who are not sent an invitation but who would like to attend should send an e-mail to official-opening@cl.cam.ac.uk giving their address and some information about the course they attended in the Computer Laboratory (i.e. the dates and course title). Alternatively, Laboratory alumni can contact The Alumni Office Director, Jan Samols, by phone on 01223-763585 or by fax on 01223-334678 in order to register for an invitation.

More information: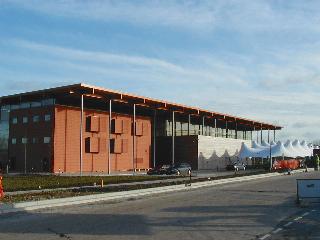 These photographs are by Alex Labeur.
---
Home | Research | Teaching | People | Contacts | Other | Search
---
Source file: intro/gatesopening.html
Page last updated on Fri Apr 19 12:20:18 BST 2002
by Christine Northeast
Please send any comments to pagemaster@cl.cam.ac.uk