Dr Poonam Yadav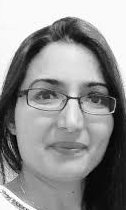 Biography
I am a Lecturer (~Assistant Professor) in the Computer Science Department at the University of York, UK and a visiting research fellow at Computer Lab, Cambridge University. Before joining York, I was a senior research associate working on Databox project with Dr Richard Mortier. Please visit my Personal website for more info.
Contact
University of Cambridge Computer Laboratory
William Gates Building, 15 JJ Thomson Avenue
Cambridge CB3 0FD, UK
py236(at) cam.ac.uk

Personal website!