Frank's Walt Disney Comics page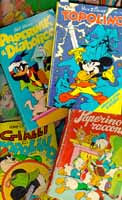 I like Disney comics a lot. In fact, it's deeper than that: I read them, study them, compare them, enjoy them in so many different ways that I even feel compelled to put a permanent reference to this activity in my signature. To find out more about my passion, read the introDUCKtion I wrote when I joined the disney-comics mailing list, a world-wide society of Disney comics lovers.
---
Disney Authors
...and more to follow, of course!
But these author pages are only the ones I wrote myself. To see more, visit the main Disney Comics site, the Anonima Fumetti site or anything on the Disney Comics Webring.
---
A bibliography of stuff I've written about comics
I shall attempt to provide downloadable versions of (as much as I can of) the articles I've written about comics, and at least some background material on the books. More work needed, but here's a start...
Some time ago I also compiled a page with a bibliography of the works by my good friends of the so-called Quartetto Toscano.
---
Graphical references
Discussing comics on the mailing list is brilliant, but sometimes it would help to be able to show some pictures while discussing specific stories. This page lets you see pictures of specific comics that I referred to in my messages to the disney-comics mailing list.
---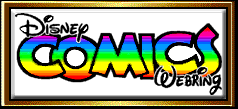 Paolo Castagno's great Disney Comics webring is unfortunately no longer available. Here is a cached copy of the ring members as of 1999 09 17, except that the links to the sites don't work :-(
Back to Frank's home page
Originally written on 1995-09-05 with HTML Easy! Pro. Last updated 2000-09-05.