ZURICH, SWITZERLAND, March 15-16, 2012
Conference Venue and Hotels
Venue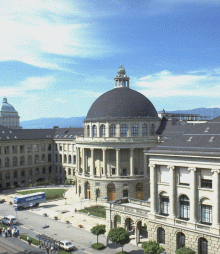 MobiOpp 2012 will be held in GEP Pavillon adjacent to the classical main building of ETH. Follow the signs from the main entrances of the building and they will guide you to the registration desk and the conference room. The main bulding of ETH is shown in the picture above and its location on the map bellow.
View
MobiOpp 2012
Venue location and nearby hotels in a larger map
Please note: The location of the venue (the GEP Pavillon) is wrongly labelled on Google maps. It's actually a little bit to the west from the label. Please check here the location of the MobiOpp 2012 Venue.
Hotel information
This is a list of hotels that are in the neighborhood of the conference venue. The prices indicated below are blocked rooms for the conference with a discount valid until Jan. 31st, 2012.
HOTEL PLATTENHOF***
Plattenstrasse 26
8032 Zurich
Tel +41 44 251 19 10
info@plattenhof.ch
http://www.plattenhof.ch
10 single rooms, breakfast and taxes incl.: CHF 255.


Sorell Hotel Zurichberg ****
Orellistrasse 21
8044 Zurich
Tel +41 44 268 3535
info@zuerichberg.ch
http://www.zuerichberg.ch
5 single rooms, breakfast NOT incl. and taxes incl.: CHF 210.


Hotel du Théâtre ***
Seilergraben 69
8001 Zurich
Tel +41 44 267 2670
info@hotel-du-theatre.ch
www.hotel-du-theatre.ch
5 single rooms, breakfast NOT incl. and taxes incl.: CHF 210.


Hotel Rex ***
Weinbergstrasse 92
8006 Zurich
Tel +41 44 360 2525
rex@zuerich-hotels.ch
www.zuerich-hotels.ch
5 single rooms, breakfast and taxes incl: CHF 135.


Hotel Bristol ***
Stampfenbachstrasse 34
8006 Zurich
Tel +41 44 258 4444
info@hotelbristol.ch
http://www.hotelbristol.ch
5 single rooms, breakfast and taxes incl: CHF 150.


Hotel Marta
Zahringerstrasse 36
8001 Zurich
Tel +41 44 269 95 95
info@hotelmarta.ch
http://www.hotelmarta.ch/
5 Single rooms, breakfast and taxes incl., CHF 125.
2 Single rooms, breakfast and taxes incl., CHF 155.
3 Single rooms, breakfast and taxes incl., CHF 180.


Hotel Sunnehus ***
Sonneggstrasse 17
8006 Zurich
Tel +41 44 250 2727
info@hotelsunnehus.ch
www.hotelsunnehus.ch

Leoneck Hotel ***
Leonhardstrasse 1
8001 Zurich
Tel +41 44 254 2222
info@leoneck.ch
www.leoneck.ch