NetFPGA Spring School
Build an Internet router and learn about clean-slate switches in a 5-day spring school will be held at Cambridge University
Limited Places remaining! email netfpga-2010 at cl.cam.ac.uk for details
For those that have pregistered the eSales website is finally open, the direct link is here
If you still wish to pay by cheque in GBP rather than credit card; that option is also available - please let me know directly.
Open to: Academics teaching classes with the NetFPGA, and researchers (postdoc or graduate-student) interested in developing new hardware-accelerated network applications.
Those that have done a previous NetFPGA workshop will still gain from this course; while some parts of the first two days have been presented at past single and two-day workshops, this extended school presents considerably more material and will allow you to get the most as you learn about how to develop in the NetFPGA environment by working alongside those that have experience with the NetFPGA platform.
Location: Computer Laboratory, University of Cambridge,
Room FW11, 1st Floor,
William Gates Building, 15 JJ Thomson Ave, CB3 0FD, UK

Dates: Monday, March 15th - Friday, March 19th, 2010, Time: 9am - 5pm. Breakfast is delivered at 8am. Punt trips and other evening events will be announced here.

View Cambridge NetFPGA Spring School 2010 event information in a larger map
Presented by: the Cambridge NetFPGA Group and friends.
Abstract
An open platform called the NetFPGA has been developed at Stanford University. The NetFPGA platform enables researchers and instructors to build high-speed, hardware-accelerated networking systems. The platform can be used in the classroom to teach students how to build Ethernet switches and Internet Prototcol (IP) routers using hardware rather than software. The platform can be used by researchers to prototype advanced services for next-generation networks.
By using Field Programmable Gate Arrays (FPGAs), the NetFPGA enables new types of packet routing circuits to be implemented and detailed measurements of network traffic to be obtained. During the spring school, we will use the NetFPGA to determine the amount of memory needed to buffer TCP/IP data streaming through the Gigabit/second router. Hardware circuits within the NetFPGA will be implemented to measure and plot the occupancy of buffers. Circuits will be downloaded into reconfigurable hardware and tested with live, streaming Internet video traffic.
Slides
Background
Attendees will utilize a Linux-based PC equipped with NetFPGA hardware. A basic understanding of Ethernet switching and network routing is expected. Past experience with Verilog is useful but not required. This week-long spring school extends the material presented at the shorter workshop events to permit participants to fully develop a NetFPGA project.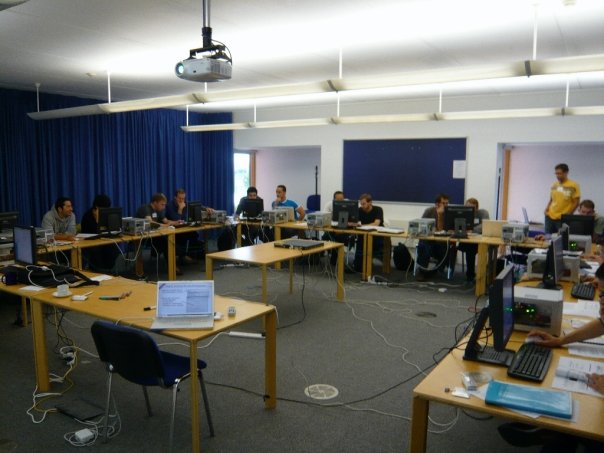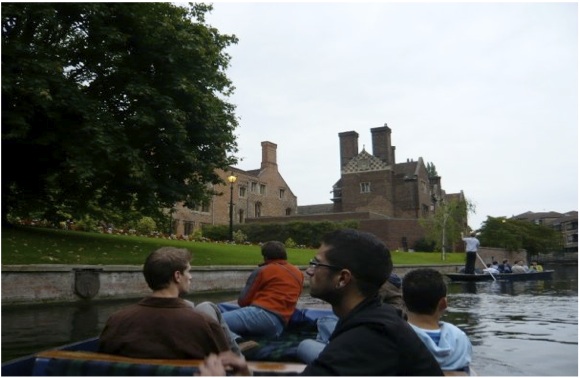 Outline
Day 1 (Monday, Mar. 15)

Welcome and introductions (All)
Day 1

Background

Basics of an IP Router
The NetFPGA hardware
How people use the NetFPGA
Why people use the NetFPGA

The Stanford Base Reference Router

Inside the NetFPGA hardware
Introduction to FPGAs and Verilog

The Enhanced Reference Router

Buffer sizing requirements in a router
Observering and controlling the queue size

Life of a packet through the NetFPGA

Data and control planes
Interface to software: Exceptions and Host I/O

Demonstration of the NetFPGA

Address Lookup
PW-OSPF
Java-based Graphical User Interface (GUI)
Demonstration of High Definition (HD) video streaming

Dinner: 7:30 India House, Newnham Road

Day 2 (Tuesday, Mar. 16)

Module Development and Testing

Running ModelSim with the NetFPGA TestBench

Compile, simulate, view waveforms
Example: Simply Encryption on a packet payload
Scrambling the payload with XOR using a key from a register

Regression testing to verify hardware functionality

Synthesize and run the hardware
Verify value: 0xFFFFFFFF (would invert every bit of every byte of payload)
Verify value: 0xFF00FF00 (would invert every other byte of payload)
Verify value: 0x55555555 (would invert every other bit of payload)

Cold fork buffet in the evening available from 6pm

Day 3 (Wednesday, Mar. 17)

Group discussion

Projects ideas
Scope of work that can be accomplished in 2-3 days

Team up for Projects

Project leaders will describe projects
Group will provide feedback on the scope
Be sure to have one hardware designer per team

Example Hardware Design

Background and review of block diagrams
Show design running on nf-test machines
including a demonstration of running code

Discuss relevent Verilog Code
Cold fork buffet in the evening available from 6pm

Day 4 (Thursday, Mar. 18)

Work on Projects Examples from the previous summer school

802.1q VLANs
Hardware-Accelerated Mathematics Library for NetFPGA
MACinMAC
Heavy Hitter Identification using Multistage filters
Layer 2 Load Balancing
Pattern Matching/Mini-IDS
TCP Traffic Analysis for Passive End-to-End Bandwidth Measurement
Assessment of Prototyping an AFDX Policy Switch Leveraging NetFPGA, Ethane, and OpenFlow Switch
ntop on NetFPGA
Universal Hash Function

Local NetFPGA users will be available for Questions and Answers
Cold fork buffet in the evening available from 6pm

Day 5 (Friday, Mar. 19)

Complete Projects
10-minute project presentations.
Live demonstrations
Award prizes to winning projects
Group Dinner at 7A Jesus Lane

Saturday, Mar 20

Checkout and safe journey home
Background Reading
To Attend this Event
Mark your calendar with the dates of the event

Please plan to arrive Sunday night, March 14, and
stay through to the Saturday morning, March 19

Travel Information

Information on travel to the Computer Laboratory in Cambridge is provided here

Accomodation has not been block booked, it is available on a first-come-first-served basis through any Cambridge hotel.

A list of accommodations is available here, here, and here. Do ensure you book a CITY hotel; all others are some distance from Cambridge.

This map may assist you for hotels.

This map may assist you for Bed and Breakfast establishments.

Additionally, several Cambridge colleges offer accommodation to the general public from a common webpage here. Rooms typically become available two to three months in advance, so please revisit the website within that period if nothing is available now.

Costs including breakfast start at 45 pounds

Cambridge has a modest, but regular, bus service and a comprehensive taxi service.