University of Cambridge, Computer Laboratory.
Home Wiring Reuse and HanLan
---
Intoduction
`Home Wiring Reuse' is a project run by DJ Greaves and partly sponsored by Virata. The project is investigating the bandwidth capabilities of home wiring systems, with emphasis on the installed base of phone wire.
Physical Layer Models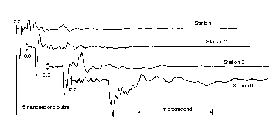 The project has developed a set of simulation models for home wiring and also a physical testbed of real wires and phones. The simulation models are based on finite-element frequency and time simulations with FFT transformation between the two.
Tom Cards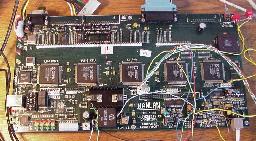 The project has a set of TOM cards that contain Pentium PC, 5 FPGAs, ADC, DAC, FIR Block, VCXO and so on. These are used for generating and testing transmission using various line codes.
HanLan
The result of the first year of the project will be an implementation of a phone lan called HanLan.
HanLan is a multiaccess network using home phone wiring to achieve a shared media bandwidth of 26.6 Mbps. The network supports both ATM, F-UNI and 802 Frame traffic at the physical layer and also a limited gateway capability between the two types of traffic. The system can co-exist with POTS telephones on the same wiring or use separate switched wiring segments.
Friends of the project can receive a white paper regarding our evaluation of the DMT solution on request.
---
David Greaves, Sang Bum Suh, Daniel Gordon, Richard Leiser, Dick Kimpton.
---
Links