Artificial Intelligence Group
The work of the Artificial Intelligence Group is multi-disciplinary, spanning genomics and bio-informatics, computational learning theory, computer vision, and informal reasoning. A unifying theme is understanding multi-scale pattern recognition problems, seeking powerful (often statistical) algorithms for modeling and solving them, and for learning from data. The AI Group seeks to find synergies amongst ideas based in statistics, mechanised reasoning, cognitive science, biology, and engineering, and to develop practical applications from them.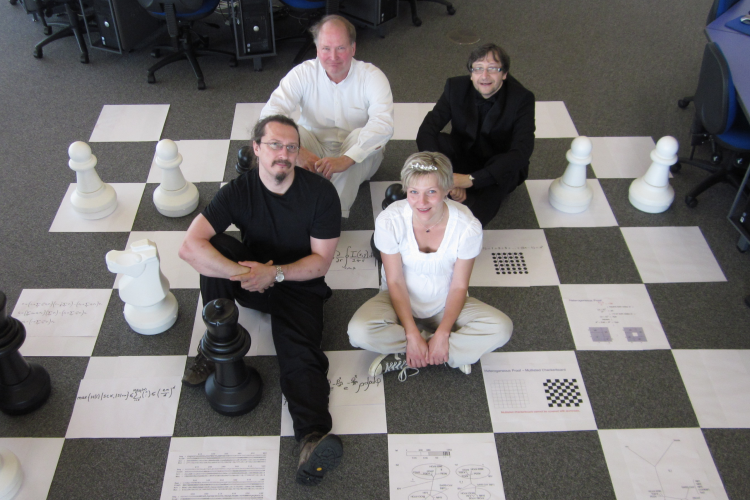 Members of the AI Group engaging with the final position of the famous chess match between IBM Deep Blue and world champion Gary Kasparov. In that chess game the world changed: Artificial Intelligence finally delivered on a long-awaited promise and earned its name.
John Daugman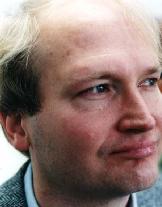 John Daugman is Professor of Computer Vision and Pattern Recognition in the Computer Laboratory. He obtained his AB and PhD degrees from Harvard University in the USA, where he also then taught on the Faculty. Before coming to Cambridge he held the Toshiba Chair at the Tokyo Institute of Technology, Japan, and during 2002–2004 he was the Johann Bernoulli Professor of Mathematics and Informatics at the University of Groningen, The Netherlands.
At Cambridge he currently teaches Computer Vision, Information Theory, and Mathematical Methods for Computer Science.
Research interests: computer vision, statistical pattern recognition, information theory and wavelets.
One outgrowth of his work has been iris recognition, an automatic and fast method for determining personal identity with very high confidence, by mathematical analysis of the random patterns that are visible in the iris of a person's eye from some distance. Professor Daugman's algorithms are the basis of all currently deployed iris recognition systems and have been licensed internationally, particularly for use in airports where governments (including the UK) allow the process to substitute for a passport. Currently the Government of India is using these algorithms to enroll and cross-compare the iris patterns of all 1.2 billion citizens of India in a national entitlements and benefits ID system. With 200 million persons enrolled so far and a further 1 million each day, some 400 trillion iris comparisons for ID de-duplication are performed every day with these algorithms.
(Professor Daugman is currently unavailable to supervise PhD students.)
Sean Holden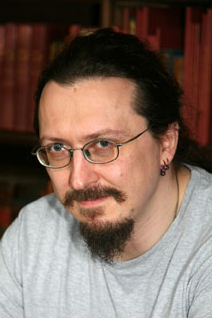 Sean Holden is University Senior Lecturer in Machine Learning and Fellow and Director of Studies in Computer Science at Trinity College Cambridge. He obtained his BSc in Electronic Systems Engineering from the University of East Anglia and his PhD in Information Engineering from Cambridge University. He was postdoctoral researcher at King's College London and Cambridge University Engineering Department before taking up a Lectureship in Computer Science at University College London, where he set up and ran the MSc programme in Intelligent Systems. He was appointed Lecturer in Machine Learning in Cambridge in 2002.
He currently teaches the courses Artificial Intelligence I and Artificial Intelligence II to second and third year students respectively.
Research interests: machine learning algorithms, computational learning theory, Bayesian inference and Bayes networks, planning algorithms, functional languages for machine learning, probabilistic programming languages, application of machine learning in theorem proving, drug design, retinal opthalmology and organelle proteomics.
Mateja Jamnik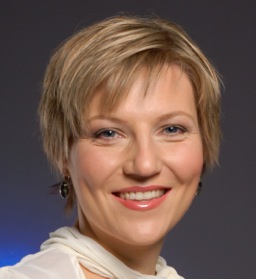 Mateja Jamnik is University Senior Lecturer in the Computer Laboratory. She also held the EPSRC Advanced Research Fellowship "Automating Informal Human Mathematical Reasoning" until 2012. She is a member of the Automated Reasoning Group and the Artificial Intelligence Group. Mateja obtained her PhD at the Department of Artificial Intelligence in the University of Edinburgh. Her doctoral thesis, "Automating Diagrammatic Proofs of Arithmetic Arguments" broke new ground in automated reasoning, and as a result, she was invited by CSLI Press, Stanford, to write a book about her work - Mathematical reasoning with diagrams: from intuition to automation (2001).
Research interests: Research interests: computational modeling of human reasoning, in particular in mathematics. Artificial intelligence, automated reasoning, diagrammatic reasoning, theorem proving, proof planning, cognitive science, machine learning, human-computer interaction, knowledge representation, agent technology. Mateja is interested in exploring how people solve mathematical problems. She computationally models this type of reasoning on computers to enable machines to reason in a similar way to humans. In particular, her research aims to investigate and mechanise some of "informal" human mathematical reasoning, such as the use of diagrams in proofs of mathematical theorems. Few automated reasoning systems attempt to benefit from the power of human techniques. In Mateja's work, she aims to do just that: integrate informal human reasoning techniques with classical formal techniques. Dr Jamnik teaches Automated Reasoning and occasionally Artificial Intelligence courses. She also is the director of the women@CL network.
Pietro Liò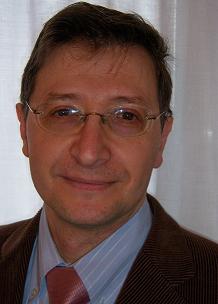 Pietro Liò is University Senior Lecturer in Bioinformatics algorithms. I have obtained a PhD in Complex Systems and Non Linear Dynamics (School of Informatics, dept of Engineering of the University of Firenze, Italy) and a PhD in (Theoretical) Genetics (University of Pavia, Italy). Previous appointments include the Genetic Epidemiology Unit (led by Prof Newton Morton), the European Bioinformatics Institute (Dr Nick Goldman group).
Research interests: Understanding disease complexity is the definite scientific challenge of the twenty-first century medicine. Computational modelling is increasingly becoming the dominant framework to understand, model and predict complex physiological and pathological conditions in scenarios of single organ disease to co-morbidities. Comorbidity is the term used to address diseases, often chronic ones, co-occurring in the same individual. Today multi-scale and complex biomedical data are gathered and analysed in a rather simple way that is prone to missing the opportunity to uncover combinations of predictive disease profiles. We can observe what happens at almost all scales, from the whole organism down to the molecular level; however, putting things together in order to obtain complete understanding is much more difficult and less developed. My work focuses on developing novel multiscale computational disease-models that combine dynamical systems modeling with statistical inference. My aim is to use a wide range of high throughput resolution molecular, cell, tissue, organ and clinical data and to produce advancement in predictive models in biomedicine, in particular to generate new prognostic and predictive markers of disease conditions. The result is the generation of adequate artificial intelligence support to improve the correctness of the diagnosis and the decision-making process, particularly in presence of multiple therapies. The future foreseen is that computers will assist our health and disease conditions in a more effective way than nowaday.
See also: Natural Language Processing Group