Argumentative Zoning
My thesis work introduces a new a rhetorical-level analysis of scientific research articles which I called "Argumentative Zoning" (abstract ) The definition of the argumentative Zones is given by the sentential-rhetorical speech act of single, important sentences (landmark sentences, e.g. "in this paper we develop a method for" or "in contrast to REFERENCE, our approach uses ..."). That means, I am particularly interested in the rhetorical status of that sentence with respect to the communicative function of the whole paper. The zones, each associated with one or more sentences, are the following:
BKG: General scientific background (yellow)
OTH: Neutral descriptions of other people's work (orange)
OWN: Neutral descriptions of the own, new work (blue)
AIM: Statements of the particular aim of the current paper (pink)
TXT: Statements of textual organization of the current paper (in chapter 1, we introduce...) (red)
CTR: Contrastive or comparative statements about other work; explicit mention of weaknesses of other work (green)
BAS: Statements that own work is based on other work (purple)
The thesis looks at how humans perform the analysis, how much they agree or disagree (they agree pretty much!) and how an automatic, rather shallow process can apply the analysis, based on machine learning and sentential features. Training of these heuristics operates on my corpus of 200 papers. A typical output of my system is shown here: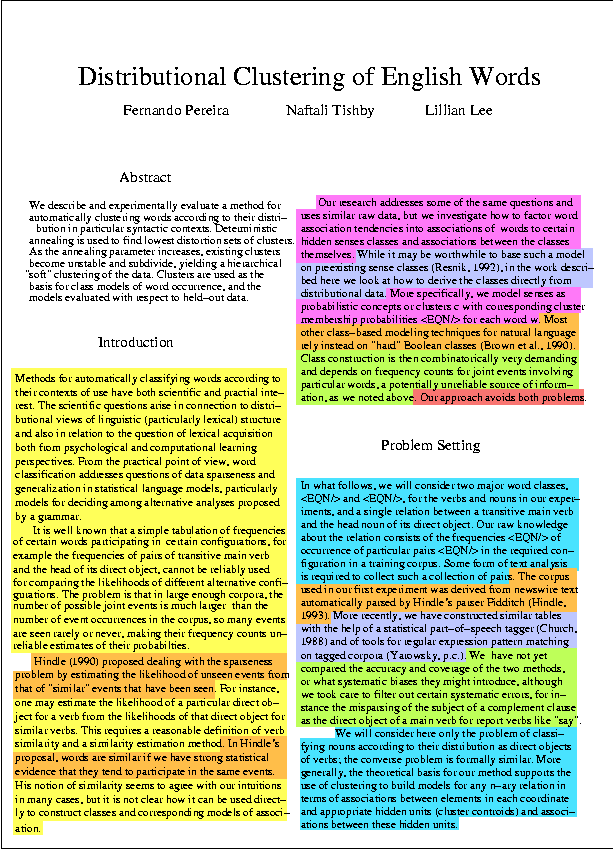 The ultimate aim of this work is to provide an intelligent library search tool for researchers. This could include the summarization of single or multiple articles, and also improved citation indexes. A construct called a "citation maps" could help people grasp relationships between papers, like this the following graphics showing citation relationships between some articles in my test corpus: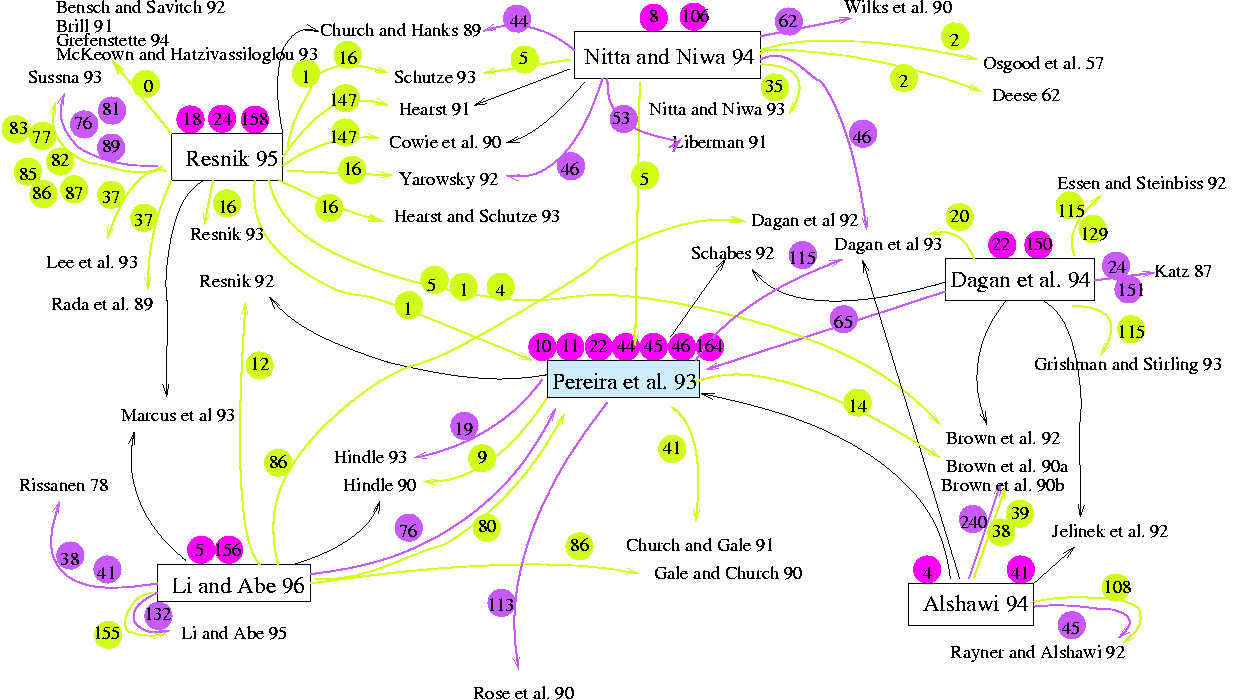 The results of rhetorical processing is expressed by coloured links in this example. Such value-added processing needs NLP and improves all of these information access tasks.
Thesis
The thesis can be downloaded in one chunk here thesis.pdf (350+ pages, some in colour), and in four 90-page chunks here 1.ps or 1.pdf, 2.ps or 2.pdf , 3.ps or 3.pdf , 4.ps or 4.pdf. A short description of the thesis work can be found here.
Papers related to Argumentative Zoning