---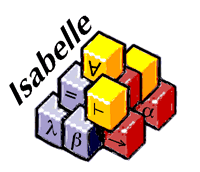 Use the mailing list isabelle-users@cl.cam.ac.uk for discussing problems and results. To subscribe, contact our robot.

Isabelle is distributed under a BSD-style open source licence.

To unpack a tar file such as Isabelle99.tar.gz, use the command

tar zxf Isabelle99.tar.gz

Isabelle: A Generic Theorem Prover. By Lawrence C. Paulson, with contributions by Tobias Nipkow. Springer Lecture Notes in Computer Science 828. XVII+321 pages, 1994. Price: DM 66.00. ISBN 3-540-58244-4.
Datatypes and (Co)Inductive Definitions in Isabelle/HOL, by Tobias Nipkow and L. C. Paulson (1994). Note: this consists of sections from Isabelle's Object-Logics that could not be included in the book.
These items are unsupported. But if you have any success with them, please let me know.
---
Last modified on 2021-02-20
Back to Larry Paulson's Home Page