Jean Bacon: Art projects
Jesus College
In November 2019 Jesus college started a practical Art Club. The website is unlinked for privacy, please respect this and do not create explicit links. It can be found at www.cl.cam.ac.uk/~jmb25/ ...then... JesusArt. The pages show the meetings and some of the work created.
Jean's current project on Jesus portraits follows from an art club meeting in November 2019. Again, this page is not linked in for reasons of privacy: www.cl.cam.ac.uk/~jmb25/... then...PortraitsJE

October 2018
Publication of Thirty Years of Contemporary Art, Jesus College Cambridge 1988 - 2018, which I compiled with Jim Roseblade, see Thirty Years Book.

Xu Zhimo Festival and related work
The Xu Zhimo Poetry and Art Festival has run annually in King's College Cambridge since 2014.
In August 2016 I was invited to contribute a watercolour to the associated exhibition.

The occasion had two signature scrolls of attendees and I was asked by Tony Hsu (Xu Zhimo's grandson) to decorate them. I added a watercolour of the willow tree and bridge in King's. This is where the calligraphy stele of part of Xu Zhimo's famous poem, "Leaving Cambridge again" is located.
Photos by Tony Hsu. Click on the thumbnails for a larger image. Through 2016-17 I painted this Xu Zhimo willow tree.

This connection has led to the publication, by Three Rivers, of a retrospective book of my paintings, a low-resolution, (not-final) proof is here.
An exhibition with the book as catalogue was associated with the 2019 Xu Zhimo Festival.

King's Chapel Angels
I had an exhibition of paintings of the Angels, on the south side of the Chapel, in King's College Art Centre, Nov 28th - Dec 24th (Advent) 2015, see Exhibition 2015.
One of the paintings was used as a menu card for a formal dinner in King's in December 2015, see Foundation Dinner.
After the exhibition, one of the paintings was on the front cover of the Chapel's order of service for Lent term 2016.
Click on the thumbnail for a larger image.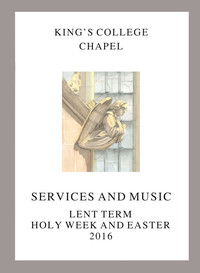 The angels were also used in a video to accompany Adam Pounds' setting of William Blake's "A cradle song", sung by great St Mary's church choirs.
See "A cradle song slide show" Feb 2019.

Large acrylic
In 2010 I did a six-piece acrylic, with colours inspired by two small watercolours by Paul Klee. This was a challenge for the photographer, Ken Moody.

Reedbed project
I had an exhibition in Blythburgh Church, Suffolk, August 2007, see reedbed paintings. These resulted from a year's photographs taken by Ken Moody, which can be seen from the website. The exhibition, extended with new paintings and photographs, was repeated in King's College Art Centre, February 2008, see Exhibition 2008.

Flower paintings and abstracts The February 2005, exhibition in King's showed flower paintings, abstracts and some paintings done in St Saturnin, Provence.
Earlier exhibitions didn't benefit from the high resolution digital photography we have now. We had web images of low resolution and poor colour quality, created from scanned-in photographic prints: January 1997, February 1998 and July 2000, in King's College Art Centre.