In what follows we distinguish from the two related areas of management and control. Control:
is performed on a short time scale, management operation may takes minutes or even hours to perform;
does not require the intervention of a human operator, management in general does;
is management policy independent, i.e. control functions are carried out regardless of what management strategy is being used.
For example, call set-up is a typical control function and alarm correlation a management function. Although, control and management to some extent overlap and are often referred together simply as network management it is still useful to make a distinction between them.
Current developments in ATM Networking are leading to the notion of devolved control in which a number of switches are controlled by a largely separate distributed system as shown below: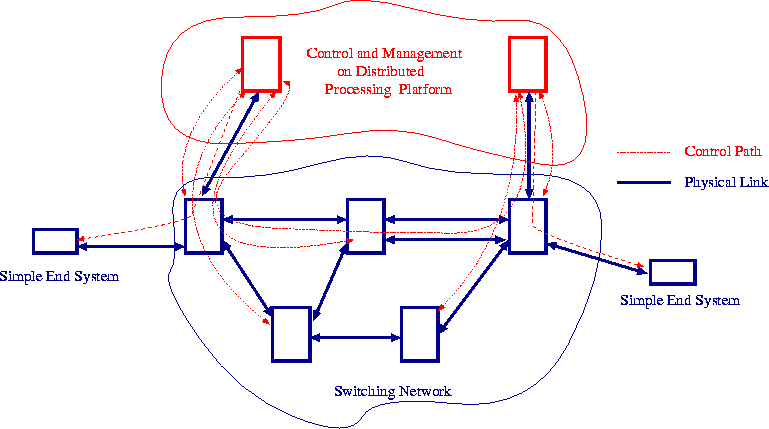 This approach is in line with current thinking in Intelligent Networking (IN), whereby typically the actual routing of a call is achieved outside of the network by some higher level entity which then uses knowlege about the type of call being made in order to determine what script to run in order to perform the service e.g. freephones charge the callee rather than the caller.
In addition, it resonates with the approach to telecommunication management as specified by the ITU-TS Reference Model for Open Distributed Processing (X.901-4), which defines a Telecommunication Management Network (TMN) which manages the underlying telecommunication network.
However, both IN and TMN standards have been defined with a Public Switching Telecommunication Network in mind. Within such a wide-area environment one may assume that network elements are autonomous and powerful; neither processing power nor implementation complexity are primary limitations.
In local ATM networks, this assumption may not hold. Switches may only perform the relaying of cells (unicast or multicast) with even simple connection and network management functions performed by an external (distributed) system. There may also be end system elements, such as an ATM camera, which are so simple that they cannot perform network signalling and thus may not be able to initiate communication. They can be thought of as slaves.
Furthermore, the IN and TMN standards have defined complex protocols between the managing and managed layers. The rational seems to be that all embracing protocols will enhance their adapability to new services. For managed elements to be able to communicate with a manager using such protocols require them to have some knowledge of the management strategy.
We take the view that the protocols between the manager and the network should be minimalist. Additional management functionality e.g. synchronisation between streams, can be added in the management domain.
We propose to develop a system which allows the distributed management platform to encompass a range of intelligences and to make as few assumptions as possible about the management strategy to be used.
The work divides naturally into four related, but distinct domains:
development of a suitable platform in which to run management and control applications and some test control/ management applications in order to demonstrate the concept;
development of a suitable means of communication between these applications;
development of a suitable simple protocol for the communication of management and control information between the network devices and these applications;
construction of a network consisting of devices - ATM peripherals and switches - capable of being managed by the above.