Dr Steven J. Murdoch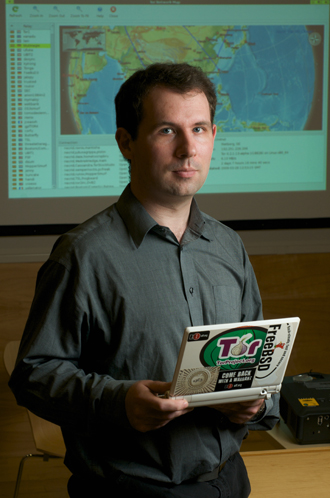 [ Portrait photographer
Roland Eva
|
More photos
]
I am a researcher in the Security Group of the University of Cambridge, based in the Computer Laboratory, a fellow of Christ's College, and a member of the Tor project.
Some of my writings can be found on the Security Group blog: Light Blue Touchpaper.
Cambridge students may be interested in my Part II project proposals.
News and Updates
05 March 2013
Added slides for my invited talk at OWASP Belgium: "Banking security: attacks and defences".
17 January 2013
Added "How Certification Systems Fail: Lessons from the Ware Report", which appeared in the Nov/Dec 2012 edition of IEEE Security & Privacy.
12 September 2012
Added slides for my invited talk at CHES 2012: "Banking security: attacks and defences".
11 September 2012
Added "Chip and Skim: cloning EMV cards with the pre-play attack", the paper accompanying my invited talk at CHES 2012.
22 September 2011
Added "Wall 2.0", an article published in The European, in both German and the original English.
[ older news ]
---
Contents
Professional activities
Program chair
14th Privacy Enhancing Technologies Symposium, 16–18 July, 2014, Amsterdam, Netherlands.
General chair
Financial Cryptography and Data Security '11, 15th International Conference, 28 February–4 March 2011, St. Lucia. Organized by the International Financial Cryptography Association.
Previous programme committee membership
European Symposium on Research in Computer Security (ESORICS) 2011
ACM Conference on Computer and Communications Security: 2007, 2008, 2010, 2011.
Privacy Enhancing Technologies Symposium (PETS): 2007, 2008, 2009, 2011.
Financial Cryptography and Data Security (FC): 2010.
Workshop on Privacy in the Electronic Society (WPES): 2006, 2007, 2009.
ACM Symposium on Applied Computing (Computer Security track): 2007.
Workshop on Foundations of Security and Privacy (FCS-PrivMod): 2010.
FIDIS/IFIP Internet Security & Privacy Summer School: 2008.
Journal reviewing
Includes IEEE Transactions on Dependable and Secure Computing (2009), ACM Transactions on Information and System Security (2008), IEEE Transactions on Software Engineering (2008), IEEE/ACM Transactions on Networking (2007), IEEE Security & Privacy (2007), The Triple Helix (2008), Identity in the Information Society (2008).
Consultancy
For information on my availability for consultancy or expert witness work, please contact me.
Research interests
Side-channels, covert channels, watermarking and steganography
Operating system and network security
Data collection and visualisation techniques
Software engineering, maintainability and reverse-engineering
Cryptography and security protocols
Distributed databases, filesystems and versioning
Smartcards and financial security
Privacy, anonymity and traffic analysis
Structured information formats (XML, SGML, LDAP, etc.) and markup languages
Physical security and optical document security
Projects
Currently, my most active research topics are on anonymous communications (specifically the Tor Project) and banking security. For other activities, see my project list.
Recent publications
A full list of my papers can be found on the publications page.
Recent talks
A full list of my talks can be found on the talks page. Talks accompanying papers can be found in the publications section.
Miscellaneous
OpenID protocol diagram
Steven J. Murdoch
I found that the OpenID specifications did not give a clear overview of the protocol message flow. So I produced a protocol diagram, which summarises the roles of the various parties, messages sent between them and their important components. Not all details are covered, and only the normal protocol traces are considered so it certainly should not be considered as an alternative to the specification, but I hope it will provide some clarification.
[ protocol diagram (PDF 68K) ]
email (preferred):
Steven.Murdoch at cl.cam.ac.uk
To send me encrypted email see my PGP keys page.
post:
Dr Steven J. Murdoch
University of Cambridge
Computer Laboratory
15 JJ Thomson Avenue
Cambridge
CB3 0FD
United Kingdom
phone:
+44 1223 763566
mobile:
+44 7866 807 628
fax:
+44 1223 334678
---
Last modified 2013-10-16 18:32:00 +0100
---
Note for search engines: My name is commonly misspelt as Steve Murdoch, Steve J. Murdoch, Stephen Murdoch, Stephen J. Murdoch, even sjm217 and sjmurdoch. I haven't seen anyone try 9803674m or murdocsj, which were my identifiers at the University of Glasgow, but in principle they might.