Parking arrangements for the Official Opening

---
Visitors who are coming to the Official Opening of the William Gates Building by taxi may use the "drop-off" area outside the main entrance in J J Thomson Avenue, but that area will not be available for parking.
Special arrangements have been made with the University for visitors on 1st May to park their cars in the Park and Cycle facility, whose entrance is in Clerk Maxwell Road, off the Madingley Road. Access to this facility will be possible from 11.30 a.m., when the entrance barriers will be lowered. Visitors can then reach the Computer Laboratory via the pedestrian gate (an emergency exit, normally kept closed) at the southwest corner of the facility (the corner nearest to the Computer Laboratory).
On the day there will be signs at the corner of Clerk Maxwell Road and at the entrance of the Park and Cycle facility, and more signs directing people from there into the main entrance of the building.
http://www-building.arct.cam.ac.uk/westC/site/site.html shows the position of the Park and Cycle facility (no. 10 on the map, and the William Gates Building is no. 8).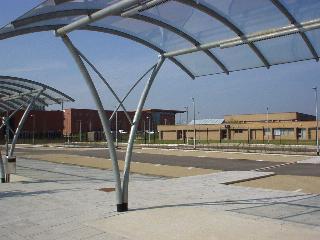 The small car park immediately to the north of the William Gates Building will be reserved for Computer Laboratory staff and disabled parking.
---
Home | Research | Teaching | People | Contacts | Other | Search
---
Source file: intro/parking.html
Page last updated on Sun Apr 14 11:43:45 BST 2002
by Christine Northeast
Please send any comments to pagemaster@cl.cam.ac.uk