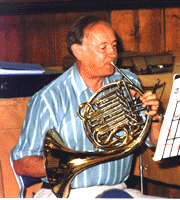 Martin Richards
I sound something like this.
Those wishing to take Grade 7 or 8 Horn examinations of the Associated Board of the Royal School of Music may find the following files useful. They were generated my the BCPL program bcplprogs/music/scales.b (in the standard BCPL distribution) and contain all the 270 required scales and arpeggios for Grade 7 in logical and random order.
For some colourful fingering charts look in the directory fingering.