Leap seconds
by Markus Kuhn
Leap seconds were introduced in 1971 to reconcile astronomical time, which is based on the rotation of the Earth, and physical time, which can be measured with amazing accuracy using atomic clocks.
Why do we have them?
Tidal friction within the Earth, caused by the gravitational pull of both the Moon and the Sun, continuously slow down the daily rotation of our planet. The modern-day definition of the unit of time, one second, approximates the length of the day divided by 60×60×24 as it was in 1820. Since then, the length of a day has increased by roughly 2.5 ms, and continues to increase in the order of 1.7 ms per century.
With the invention of atomic clocks in the mid 1950s, a means of measuring time became available that is far more stable and accurate than the rotation of our planet about its own axis. This led to two alternative definitions of time:
International Atomic Time (TAI), a time scale that was started in 1958 and as been defined uninterrupted by an international network of atomic clocks since then;
Universal Time 1 (UT1), an astronomical definition of time based on the position of the Sun in the sky, a modern and refined definition of astronomical time, replacing what used to be called Greenwich Mean Time.
TAI and UT1 were approximately equal at the introduction of TAI in 1958. But UT1 fluctuates all the time and is slowing down increasingly in the long term. As a result, TAI is now more than 32 seconds ahead of UT1.
With two different definitions of time available, the question arose, how exactly the civilian time zones according to which we set our clocks should be defined. In 1971, a committee of the International Telecommunication Union (ITU), which is in charge of setting up international rules for the operation of radio time signals, proposed a third definition of time, as a practical compromise:
Coordinated Universal Time (UTC), a time scale defined such that

the difference between UTC and TAI is always an integral number of seconds;
the difference between UTC and UT1 is never larger than 0.9 seconds.
UTC is a time scale defined by atomic clocks, just like TAI, but these atomic clocks are adjusted by inserting or deleting an additional leap second whenever UTC and UT1 drift apart by more than half a second. The ITU has put the responsibility of deciding when exactly to insert or delete a new leap seconds into the hands of the IERS.
From 1972 on, UTC quickly replaced GMT as the international reference time for setting clocks, because it was easily available from time-signal radio stations. UTC had the advantage of being generated by atomic clocks, which are far cheaper and easier to operate than the precision telescopes used earlier, without changing the relationship to the traditional astronomical definition of time by more than a second, an amount negligible for all but a few specialist applications (such as pointing telescopes). Today, most civilian time zones are defined in relation to UTC, from which they typically differ by an integral number of hours (sometimes half hours). As a result, civilian time zones have leap seconds simultaneously with UTC. If a leap second is announced, it is inserted as the 61st second (23:59:60 UTC) of the last "minute" of the month June or December.
Leap seconds have to be inserted on average every 1–2 years during this century. However, due to an unusual temporary acceleration of the Earth, no leap second was needed during the 7-year gap between the end of 1998 and the end of 2005.
An in-depth introduction into leap seconds, especially in the context of recent proposals to get rid of them, is
Efforts to abolish leap seconds
Starting with a UTC Questionnaire distributed by IERS in late 1999, several international scientific organizations (ITU, URSI, IAU, etc.) have initiated a consultation process of whether the definition of UTC should be modified. In particular, it has been proposed to remove leap seconds from the international reference time (UTC) that is broadcast in radio time signals, which is the basis of almost all regional civilian time zones, thereby effectively decoupling civilian time keeping from the rotation of the Earth.
The main arguments in favour of abandoning leap seconds are:
leap seconds could cause disruptions where computers are tightly synchronized with UTC;
leap seconds are a rare anomaly to deal with, which is a worry in particular with safety-critical real-time systems (e.g., new concepts for air-traffic control entirely based on satellite navigation);
exact astronomical time plays no significant role in most people's daily lives, and those who need to know UT1 exactly know already where to look it up.
The main arguments against abandoning leap seconds are:
there is so far a lack of credible reports about serious problems caused by leap seconds;
the assumption that UTC and UT1 differ by no more than a second is hardwired into a huge number of deployed systems (e.g., antennas that track satellites), which cost a lot to modify;
system designers who worry about leap seconds simply should use TAI instead of UTC and all we need is more easy access to TAI references;
desktop computers and network servers can easily cope with leap seconds and all we need are standardized guidelines on how to steer a computer's clock around them;
we must not give up the >5000 years old human practice of defining time through Earth's rotation because of unfounded worries of some air-traffic control engineers;
abandoning leap seconds would break sundials.
Most of the discussion on this proposal since 2000 has taken place on the LEAPSECS mailing list (Steve Allan's 2000-2006 archive, 2003-2006 [Javascript required] archive, 2007- [Javascript required] archive, broken old rom.usno.navy.mil link).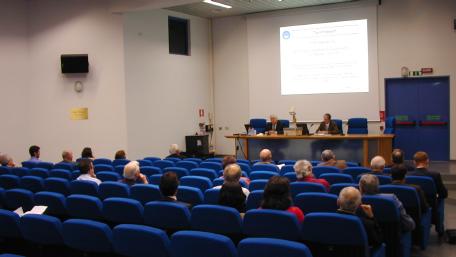 Torino meeting
A first meeting dedicated to the question of revising UTC and abandoning the leap second was the ITU-R SRG 7A Colloquium on the UTC timescale, which took place in Torino, Italy, 28–29 May 2003.
One of the proposals discussed there was to discontinue leap seconds in UTC in a few years time. At this point, the international reference time scale that is today UTC would be renamed into International Time (TI) and take over UTC's role as the basis of local civilian time zones.
Proceedings, presentation slides
I gave there a presentation
in which I discussed the history, current practice and available options of handling leap seconds in networked computer systems. I argued that
Abandoning leap seconds in the international standard time would not cause any problems for computer systems that are not involved in controlling astronomical or aerospace systems, as long as national/regional civilian time zones do the same.
Not abandoning leap seconds would not cause significant problems for the vast majority of computers either. Most problems and concerns surrounding leap seconds and computers come merely from a lack of good standardized guidelines for how to handle them and can be overcome easily. A simple example of what such a guideline could look like is my UTC with Smoothed Leap Seconds proposal. It simply says that computer operating systems should slow down the speed of the clock that normally provides UTC to applications by 0.1% during the 1000 seconds before the end of any leap second inserted into UTC. Those computers that synchronize their internal clock tightly with UTC via a network time protocol usually have already facilities to calibrate the clock speed, so this is technically not very difficult to do.
Much of the leap-second problem is caused by the primitive data formats used to disseminate time, especially those of various national LF time transmitters. They leave much to be desired and need to be upgraded to provide better information about leap seconds, atomic time and Earth-orientation parameters. Both TAI and UTC should be broadcast widely.
There are also some personal notes on the Torino meeting, which I posted to the LEAPSECS mailing list.
The US proposal
In September 2004, the United States delegation to ITU-R working party 7A submitted a proposed revision of the UTC standard (ITU-R TF.460), which aims to abandon leap seconds, for consideration by the ITU working party in November 2005. Daniel Gambis, head of the IERS Earth Orientation Center, used the occasion to suggested to all UTC users that this would be a good time to send their comments on this proposal to their respective national ITU representatives. See Steve Allen's page for details.
This proposal
maintains the name UTC;
increases the allowed tolerance between UTC and UT1 from 0.9 seconds to 1 hour;
asks the IERS to keep UTC from deviating by more than 1 hour from UT1 using leap hours instead of leap seconds;
suggests that this change to the definition of UTC be implemented by December 2007.
In my opinion, this proposal is not acceptable for a number of reasons:
UTC is widely used in computer applications today specifically because it lacks the very disruptive leap hours that occur in many local time zones due to summer-time (US: daylight-saving time) arrangements. Introducing leap hours into UTC would eliminate one of UTC's main advantages for such applications.
A leap second is a fairly minor discontinuity, one that can be corrected comfortably in computer system by a tiny change in the software-clock speed for a few minutes. A leap hour, on the other hand, is 3600 times more disruptive than a leap second! It is a very major discontinuity in what is meant to be a uniform time scale.
A fairly regular roughly annual event, such as a UTC leap second, is an expected routine matter that every person involved with precision timekeeping encounters and handles many times during their lifetime. On the other hand, an extraordinary event, such as a UTC leap hour, is a once-every-few-centuries matter that will hardly play any role in any system designs and will therefore hit those responsible for dealing with it largely unprepared.
Introducing a leap hour into UTC will be perceived by computer operators as a potentially catastrophic hazard to the correct operation of millions of mission-critical computer systems. Our experience with the comparatively minor concern regarding the 2-digit year overflow from 1999 to 2000 ("Y2K bugs") does not even begin to describe the range of concerns, problems and costs that a leap hour in UTC would create.
Is it realistic to expect that the IERS or ITU-R – a small and obscure service office for astronomers and United Nations radio-standards agency – will have the political power (or will even still exist) to cut an hour out of UTC when the first UTC leap hour is due in the 27th century? After all, this will likely be an unprecedented and extremely expensive and risky disruption. After all, UTC is the form of time that one uses exactly to avoid the annual summertime leaps of civilian time. Back in 1582, the pope still had enough power to cut 10 days from the calendar, but even that took half a millennium to be accepted everywhere. And that was before we had computers and liability!
I cannot imagine that even the authors of this proposal can seriously imagine that a UTC leap hour is a realistic and practically implementable option. I can, therefore, only conclude that this proposed revision of UTC was meant as a fake package. This proposal is nothing but an attempt to replace UTC forever with a leap-free atomic time. It only pretends – in the interest of diplomatic convenience – to be nothing but a simple relaxation of the |UTC−UT1| tolerance.
While I do not believe that any modification to UTC is actually necessary, I could in principle live with a permanent switch from astronomic time to atomic time. However, any such proposal should
be honest enough to actually say that its goal is to detach civilian timekeeping entirely and forever from the rotation of Earth;
no longer be called UTC;
at least attempt to discuss how it proposes to future generations to handle the unbounded and ever faster increasing gap between TAI and UT1, which will eventually grow well above 1 day;
be announced at least five years in advance, such that the many systems that depend on the current |UTC−UT1| < 0.9 s limit can be upgraded or taken out of service first, without unreasonable cost or inconvenience.
The 2004 US proposal failed on all of these points. It has not been implemented and further leap seconds have since been inserted in 2005, 2008, and 2012. However, the supporters of the UTC-leap-hour idea have not yet given up and in late 2008 claimed increasing support among ITU member countries. On the other hand, the UK, Canadian and Chinese governments appear to have gone on record now by expressing their opposition. The next vote on the issue was in January 2012 at the World Radiocommunication Conference 2012 and preceeding Radiocommunication Assembly. The RA-12 Plenary of 19 January 2012 debate on the leap second decided to postpone the issue until the next Radiocommunication Assembly and World Radiocommunication Conference, scheduled for 2015. To be continued ...
Some of my postings on LEAPSEC
Unifying Atomic Time and the post-Gregorian calendar corrections is a possible solution (the first that I have seen) on what to do when local civilian times and the proposed leap-second-free International Time start to diverge by more than a day after the year 5000. It picks up on an idea first mentioned in What to do if International Time hits the International Date Line?, namely to reconcile the long-term deviation of Universal Time and Atomic Time by dropping a 29 February whenever they diverge by more than 12 hours. If the rotation of the Earth around the Sun is equally stable as atomic time, this approach could potentially solve at the same time the long-term deviation between the Gregorian Calendar and the solar year. One question with this proposal is whether week-day continuity should be violated at this missing leap year in civilian local times in favour of week-day continuity in international (atomic) time.
GLONASS leap second problems just a legend?
(Note: The quoted links have moved.)
Related links
Media coverage
Geoff Brumfiel: Astronomers leap to defence of extra seconds in time debate, Nature 423, 12 June 2003, p 671, doi:10.1038/423671a
David Adam: What time is it? Well, no one knows for sure, Guardian, 26 June 2003.
Andreas Hirstein: Der Schaltsekunde schlägt die Stunde. Neue Zürcher Zeitung, NZZ am Sonntag, 13 July 2003, pp 57-58.
Jim Boulden: Time to skip leap seconds?, CNN.com, 22 July 2003.
David Adam: The final countdown? The Age, Melbourne, 19 August 2003.
Manfred Dworschak: Furcht vor dem Datenschluckauf. Der Spiegel, Nr. 35, 25 August 2003, pp 94-95.
Adam Rogers: Why the World's Clocks Are Wrong. Wired Magazine, Issue 11.11, November 2003.
James Ryerson: Time Gap, The. New York Times Magazine, 14 December 2003.
Roger Highfield: Hang on a second, what's the real time? Daily Telegraph, 31 December 2003.
Daniel Bächtold: Unser Kalender braucht mehr Zeit. Tagesanzeiger, 27 February 2004.
Karen Wright: Leap Seconds. Discover Magazine, Vol. 25, No. 03, March 2004.
Roxanne Khamsi: Leap second to be added to 2005. Nature News, 6 July 2005, doi:10.1038/news050704-8.
Al Sicherman: Hey, got a minute? Or maybe just a second. Star Tribune, Minneapolis, 18 July 2005.
Keith J. Winstein: Why the U.S. Wants To End the Link Between Time and Sun. The Wall Street Journal, 29 July 2005, page A1.
Wendy M. Grossman: Time bandits. 5 August 2005.
Frank D. Roylance: Clock-syncing effort buys some time. The Baltimore Sun, 8 August 2005.
Christian Speicher: Hat der Schaltsekunde die Stunde geschlagen? Neue Zürcher Zeitung, No. 232, p. 61, 5 October 2005.
No more leap second? Heise Newsticker (English transl.), 9 November 2005.
Leap second talks are postponed. BBC News, 9 November 2005.
Devin Powell: Calls to scrap the 'leap second' grow. New Scientist, 17 December 2008.
David Rooney: A place of pilgrimage at centre of the time system. Commentary, The Times, 17 December 2008.
Mark Henderson: How a split second could spell end of GMT. The Times, 18 December 2008.
Every second counts. Comment, Leading Article, The Times, 18 December 2008.
Chris Irvine: Scientists propose 'leap hour' to fix time system. Telegraph.co.uk, 18 December 2008.
Geht es der Schaltsekunde an den Kragen? Neue Züricher Zeitung, 11 January 2012.
Leap seconds – Their time has come. The Economist, 14 January 2012.
World Radiocommunication Conference 2012 Newsroom: Status of Coordinated Universal Time (UTC) study in ITU-R
Countries consider time out on the 'leap second'. The Examiner, 17 January 2012.
Robert Gast: Die grauen Herren von Genf. Die Zeit, 26 January 2012.
Thanks to Steve Allen for providing various URLs.
created 2003-07-01 – last modified 2012-02-08 – http://www.cl.cam.ac.uk/~mgk25/time/leap/