BitTorrent Demographics
Figure blow shows the network evolution in different geo-region, and the CDF of session length in MLDHT for the whole network ("SYS") and some selected countries. We can see that Korean and US nodes are more likely to have longer session length, whereas Chinese users have typically shorter than average sessions. Generally, about 50% of the nodes have session length less then 200 minutes, while 3% have session length longer than 9000 minutes.
Our session length data can be approximated with an exponential function and a better fit is obtained with the sum of two exponential functions. Thus, it appears that the session lengths in MLDHT are exponentially distributed. The fit is shown in figure. We used the trust-region algorithm in Matlab to perform a Nonlinear Least Squares Regression fit to obtain these curves.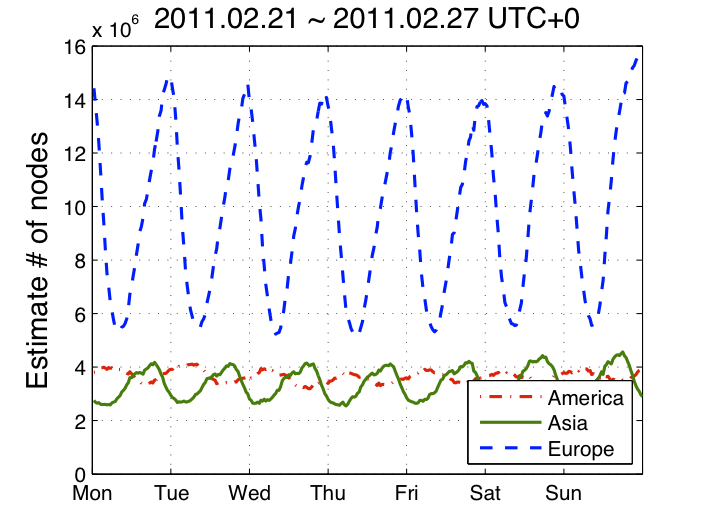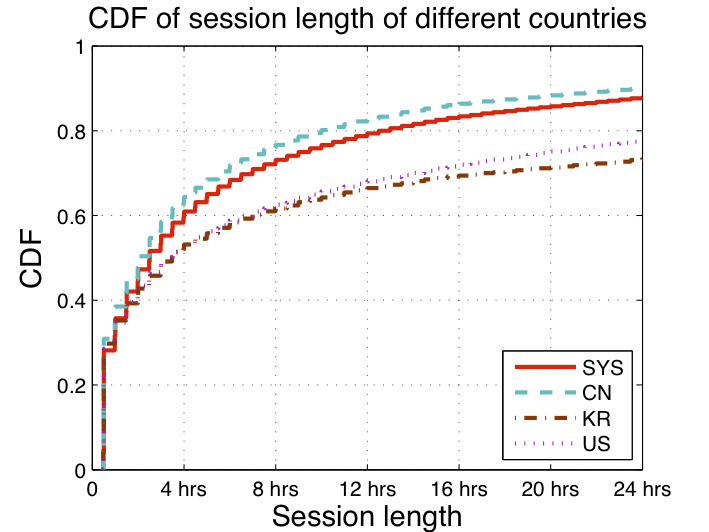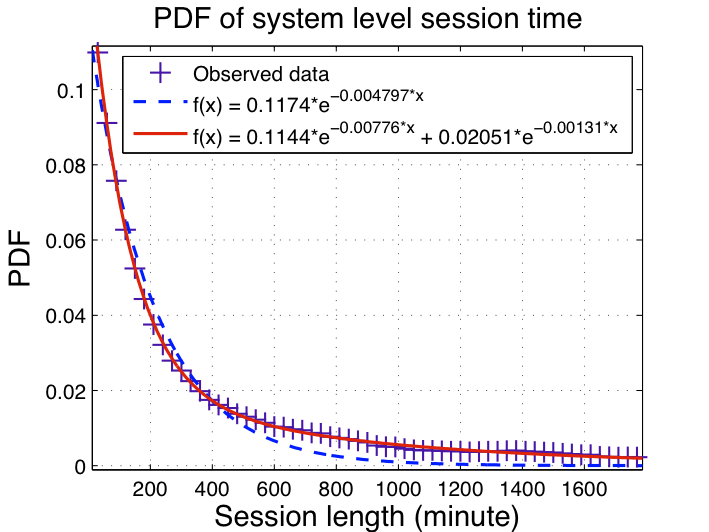 We also looked at the changes in number of users in different countries between 2011 and 2012. Note that since we only have data for 9 months in 2012 at the time of writing, these are not the final numbers, but they can be considered to show the trend. Figure one (in pink) shows the changes as a percentage and Figure two (in blue) shows the absolute numbers.


In the overall system, there is a very clear seasonal trend where the activity peaks in the Spring and is at its lowest in the Summer. Interestingly, weekends are much busier during Fall, Winter, and Spring, whereas during Summer there is no marked difference between weekends and weekdays. However, we observed that this pattern was very much country-specific. For example, in the US and Korea, there was no observable difference between weekends and weekdays at any time during the year, whereas European countries exhibited the behavior shown in Figure.

In order to analyze the number of users in the system, we took samples from March 2011 and 2012 and calculated their autocorrelations. These are shown in Figure 10, separately for both months. We take the first week in March of the both 2011 and 2012 (same as in Figure 7), then we calculate autocorrelation on each of them respectively. The most striking discovery is that the autocorrelation is practically identical for the two months, even though the average number of users has gone up by almost 3 million. However, since autocorrelation measures the similarity of a sequence to itself as a function of time separation, this simply implies that even though the number of users has increased, the behavior of users is statistically "identical". In other words, this might suggest that there may be a typical behavioral pattern of a MLDHT user; alternatively, a large number of automated bots as users could also explain this phenomenon. Further studies would be needed to ascertain the reasons behind this