Security for Ubiquitous Computing
Scuola Normale Superiore di Pisa
Advanced School in Mobile Computing
First edition - September 2003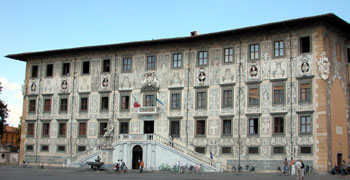 The Scuola Normale Superiore di Pisa and List launched an Advanced School in Mobile Computing in September 2003, dedicated to 20 top class graduate students who would attend the course free of charge. The course consisted of 8 modules, two per week, each taught by a different expert. I taught a course module on Security for Ubiquitous Computing, based on my book of the same name.
While there, I was interviewed (in Italian) about mobile computing by Radio 24, the radio station of the financial daily newspaper Il Sole 24 Ore.

I greatly enjoyed teaching this module. The students were very smart and the atmosphere of the prestigious Scuola Normale was very inspiring. I am pleased to report that the students enjoyed my module as much as I did, as can be seen from the feedback forms they filled in halfway through the module and even more from the ones handed out at the end of it. Note that some "local" graduate students from the University of Pisa also attended, which accounts for the fact that there are more than 20 responses. We also enjoyed eating some good pizza together, something I always miss when I am not in Italy.
---
© Frank Stajano 2003