When I am not Working
So, what do I do when I am not updating my Web pages?
Music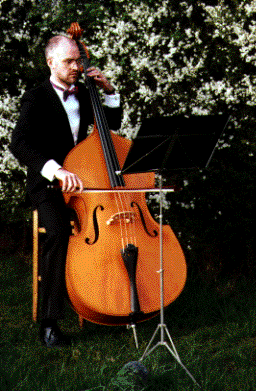 Where am I? What am I doing?
Well, mostly working nowadays. In happier times, I would have been doing a lot more musical stuff. Since 2004 my only regular gig has been as principal double bass of the Cambridge String Players. I previously played in the Cambridge Philharmonic, the Cambridge University Music Society (CUMS 1) and various other orchestras (Hammersmith Philharmonic, Kew Sinfonia, Richmond Orchestra as well as many youth, college and university orchestras). I've sung with various chamber choirs and large choruses, and occasionally in choirs providing liturgical music for cathedrals around England.
Rowing
I don't row as much as I used to either. I used to row in the first boat at Darwin College (seen in this photo rowing in lovely conditions during the 1996 Fairbairns), but don't row regularly for the College any more. Until a bicycle accident in 2000, I was rowing with the Free Press Boat Club. Recent update - I rowed for Darwin again in a "Gentleman's boat" in the 2007 Mays.
Building
Free time in 2007 was largely taken up with rebuilding my house, a Victorian-era terrace house in central Cambridge. In software terms, this was "refactoring" a 110 year old house. So many features had changed over the life of the house (invention of bathrooms, heating, electricity, gas-powered cooking), that practically every room had been changed (for the worse). With the very welcome labour of emeritus professor of architecture Dean Hawkes, we did what software people would call "re-architecting" to bring some coherence to the place. Almost every room changed its function, all but one had walls and floors removed, and a third of the house was demolished. Photos of work in progress can be found on Flickr (most recent first - look at the later pages to see demolition work).
Art
I go out of my way to see contemporary art. (I will also visit classical art galleries if I happen to be walking past them). I am particularly keen on modern sculpture - I have just started publishing some of my collection of photos from sculpture parks around the world.
---
Click to return to Alan

Blackwell's home page.