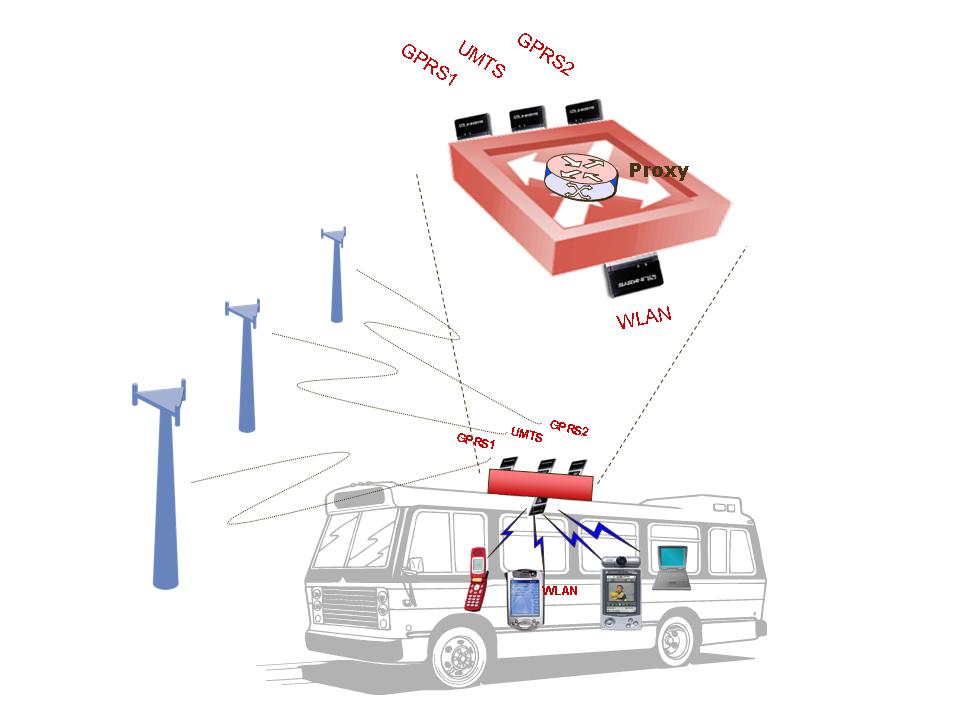 MAR: Mobile Access Router
---
Introduction

The Mobile Access Router (MAR) project studies how to exploit different levels of diversity in wireless data networks for enabling ubiquitous access to high-speed mobile data applications.

GSM and TDMA Wireless networks all over the world are being upgraded to support 2.5 and 3G mobile data services. GPRS and UMTS networks in Europe, and CDMA 1xRTT and CDMA 2000 networks in the USA and Asia are currently being deployed and tested to provide Wireless data services that enable ubiquitous mobile access to IP-based applications. Over the last several years important advances have been made in the different layers of the Wireless-WAN protocol stacks to improve the experience of data users. As a result, new modulation protocols, smarter schedulers, optimized error correction techniques, new transport protocols and several optimizations techniques to improve TCP/IP and applications performance have been introduced. Despite these efforts, experiments conducted over real wireless-WAN production networks (e.g., GPRS, CDMA2000) indicate that such links are still plagued with several problems such as high and variable round trip times, patterns of burst packet loss, frequent link outages, etc. These problems result in significantly lower bandwidths than originally claimed and threaten the success of wireless-WAN data technologies. These problems are expected to continue even as new wireless-WAN technologies emerge, e.g. UMTS, since wireless-wan networks are spectrum constraint, need to provide a wide-area coverage, and must deal with very harsh link-layer conditions.

On the other side of the spectrum of wireless-data technologies, wireless-LAN (e.g. 802.11b) systems are rapidly emerging as an alternative technology to wireless-WAN systems. WLAN systems can easily provide access rates in the order of several Mbps and a much more smooth end-user experience than wireless-WAN systems. However, their coverage is quite small, being limited mostly to hot-spot areas (e.g. airports, restaurants, hotels, etc.).

As a result, there is currently no single wireless data technology that can offer the level of coverage, bandwidth, and resilience expected to provide efficient mobile data applications. Instead of picking one single technology, we argue for a more practical approach that makes use of multitude of wireless technologies simultaneously, aggregating the available bandwidth and providing a reliable and stable link to the end-user. To that end, we advocate exploiting different levels of diversity in wireless data networks:

Spectral Diversity: Wireless networks use a diverse set of medium-sharing techniques to provide point to point communications. Such techniques include time division multiplexing, frequency division multiplexing, and CDMA. MAR can combine multiple wireless networks over a range of multiplexing techniques (e.g. two systems with the same frequency but different time-slots, and a third system using a different frequency) and aggregate them to enable a faster wireless data services.

Network Diversity: The coverage provided by different wireless networks can be quite diverse and fluctuate with time and location. For instance some areas may be very well covered by provider_X but not by provider_Y, even when using the same technology (e.g. GPRS).

To exploit this network diversity, MAR can use several wireless networks in a given area to provide a reliable communication link even if some links temporary suffer from link-outages and/or loss effects.

Technology Diversity: As users move, the set of wireless technologies available in each region may be quite diverse. For instance as the user moves from a rural area into a city, W-LAN technologies may suddenly become available (e.g. 802.11b). Similarly, some areas may provide with one single wireless-WAN technology (e.g. GPRS) while other areas may provide with a wider range of wireless-WAN technologies (e.g. GPRS, UMTS, CDMA2000). MAR can accommodate a large range of wireless technologies and automatically switch between them depending on their availability.

Based on the previous discussion, we propose a MAR router that exploits the different levels of wireless diversity. The MAR router is a multi-homed wireless device that can include multiple wireless systems (e.g. four GPRS cards) from different wireless networks (e.g. GPRS, 3G, WLAN etc.) and operators (e.g., Vodafone, Orange etc.) simultaneously. The MAR router can be used as the access router in any mobile vehicle (e.g. car, bus, or train) and provides several local high-speed interfaces (e.g. 802.11, bluetooth, Ethernet) for end user access.

One of the key functionalities of MARS is that it can aggregate the available bandwidth in all wireless interfaces. This aggregated bandwidth is then offered as a larger, more stable pipe to the end users. The MAR session protocol makes use of dynamic parallel-download techniques and FEC to aggregate the available bandwidth in multiple wireless interfaces without requiring a precise estimation of the bandwidth or the delay in the wireless links. This new aggregation protocol does not require changes to the end systems (clients and servers) and automatically adapts to changing wireless conditions by instantaneously shifting the load from under-performing wireless interfaces to better performing ones.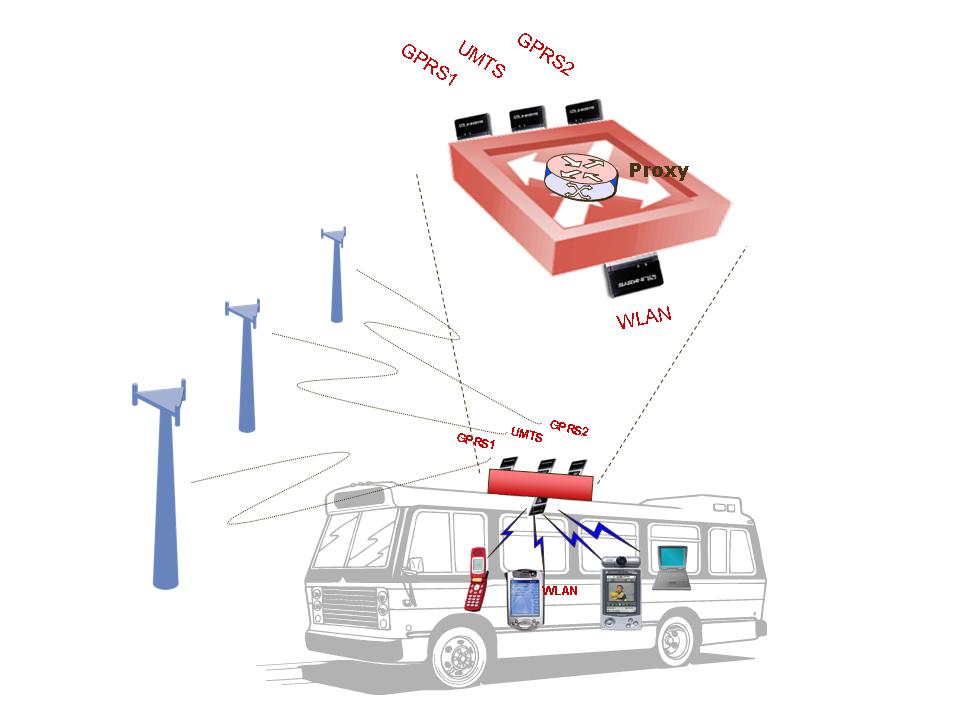 Fig1. Commuter Router based on MAR system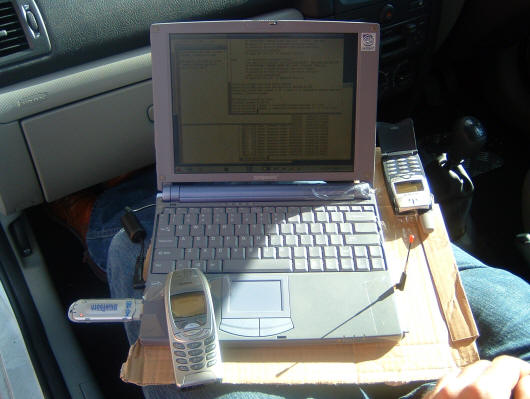 Fig2. First MAR prototype (2 GPRS phones + 1 PCMCIA GPRS). 23/10/03
Publications
R. Chakravorty, I. Pratt, P. Rodriguez, "Exploiting Network Diversity in MARS A Mobile Access Router System". Under Submission, July 2003.
People
Pablo Rodriguez (Microsoft Research, Cambridge. UK)
Rajiv Chakravorty, Julian Chesterfield, Ian Pratt, (Systems Research Group, University of Cambridge Computer Laboratory. UK)