Care of the William Gates Building
Responsibility of care
The William Gates Building is a relatively new building having only officially been opened in 2002.
It is a building which the staff of the Computer Laboratory are particularly proud as they fought long and hard for its construction, and they are also very proud of its dedication to ecology.
For these reasons we all hope that you will also take pride in the building and help keep it well-maintained.
It is important to emphasis that because the building is accessible for 24 hours a day, all through the year, we ask EVERYONE to take responsibility for the care and security of the building, and the safety of all people within it – whether those people be staff, students, visitors or children.
Please treat the building with respect and care and follow the few basic rules laid out to keep the building in good working and secure order.
Thank you!
Lecture theatres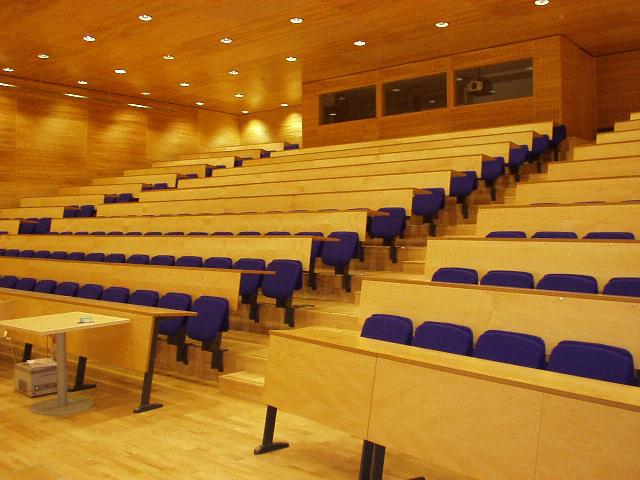 Lecture theatre 1 and 2 are equipped with a fairly sophisticated audio-visual presentation system.
For this reason, we ask that extreme care is taken in keeping both the equipment and room clean and tidy.
NO food or drink, apart from bottled water, is allowed in either of the lecture rooms at any time.
Toilets
Public toilets are situated on all floors of The Street. The ground floor toilets are located opposite the café, with the disabled toilet at the opposite end of The Street, near the Library.
There are also toilets (including disabled toilets) located on every floor beyond The Street in the private area. These are indicated by lavendar coloured walls and are located by the junctions on the East corridors.
Toilets are marked as a T on the floor plans of each floor (or Male and Female toilets).
If you have difficulty in locating these facilities, please ensure your host, or a colleague, shows you the nearest for your convenience.
Showers
The showers in the WGB are available for use by all staff and students of the Computer Lab.
The showers are located next to GN09 on the Ground floor (near the library) and in SC24, SC26 and SC28 on the second floor.
Please help the cleaners by keeping the showering area clean and tidy.
If you find any personal items in the showers, please hand them in at Lost Property for people to collect.
Posters
Whilst we appreciate that people will want to display notices around the building, can we please ask you to limit this to the notice boards provided.
Numerous notice boards are fixed throughout the Computer Lab, and if you would like an additional notice board, or hangings for a framed picture, Building Services can easily provide these for you.
Bluetac or sellotaping papers to painted or timber-panelled walls, or to office doors leaves unsightly faded patches, which costs money to repair. For this reason, any papers displayed anywhere other than on the notice boards will be removed.
(Please also remember to remove your out-of-date posters, so that others can pin their posters to the boards).
Spillages
Please be careful when disposing of liquids to ensure that containers are completely empty before they are disposed in waste paper or recycling bins.
Please also ensure that any spillages on the carpets or corridors are immediately cleaned up so as not to leave stains or slippery surfaces.
If more than water and a cloth are required, please contact Building Services and wait for them to attend the situation, especially if the spillage could be a hazard - wet floor, harmful if touched, etc.
If you notice a spillage on the floor, please either clean it or report it immediately. This will help to ensure no lasting damage is done to the floor, and that there is no accidents as a result of a wet floor. Where possible place a "Wet floor" sign as a warning.