Printing on Windows 7 and newer
There are three routes for connecting to a printer:
If you are using a centrally-managed machine, there is a script available to simplify the process of adding printers.
Laptop users who are connected via the Windows VLAN (298) or Internal-CL network can use Bonjour to add a printer.
Visitors connected via eduroam or UniOfCam network and for users who do not wish to use Bonjour can connect directly to CUPS to add a printer.
Manually adding printers to managed machines
Run a command prompt window as administrator — this can be done by typing 'cmd' in the search box, right-clicking the command prompt app and selecting 'Run as Administrator'.
In the command prompt window, type \\elmer.cl.cam.ac.uk\install\LocalInstall\Printers\add_drivers.bat and wait for it to complete. This will install the drivers for all current Computer Laboratory printers.
Once the drivers have been installed, you can add a new printer by typing the command powershell.exe -executionpolicy bypass -file \\elmer.cl.cam.ac.uk\install\LocalInstall\Printers\addprinter.ps1 -Printer name where 'name' is the name of the printer you wish to install. For example: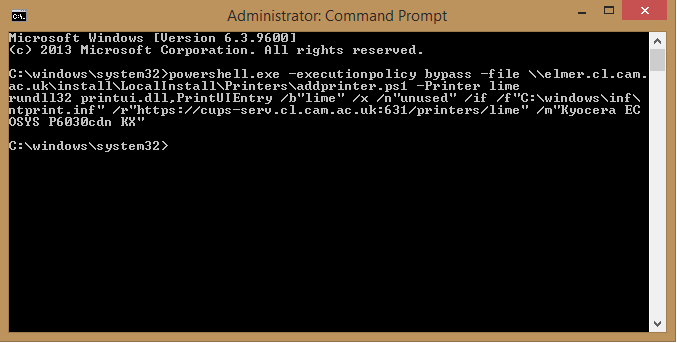 Adding printers using Bonjour
In order to add printers using this method, you first need to download Bonjour and install it.
Once Bonjour is installed, run it and select the Bonjour Printer Wizard, which should display a list of the available printers. The Bonjour printers should be listed in the format printer name:location:description/model@svr-cups-1-6-2 (see example below).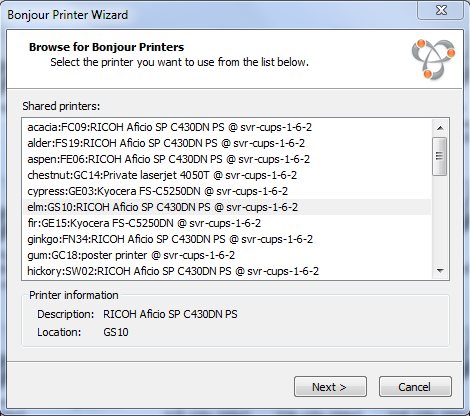 Find the printer you want and select it, then click on Next.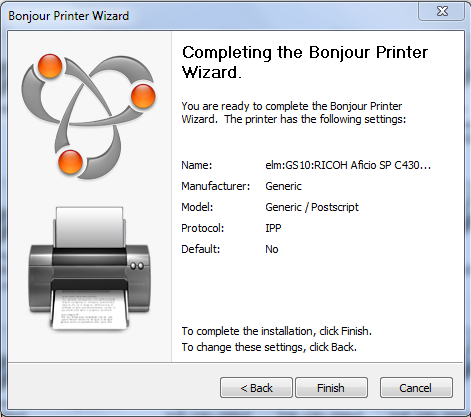 Note that the next popup suggest a Generic Manufacturer and a Generic Model. This is wrong and needs to be corrected, click on Back. If it comes up with an "out of memory" warning ignore it and click on OK (there is no other choice).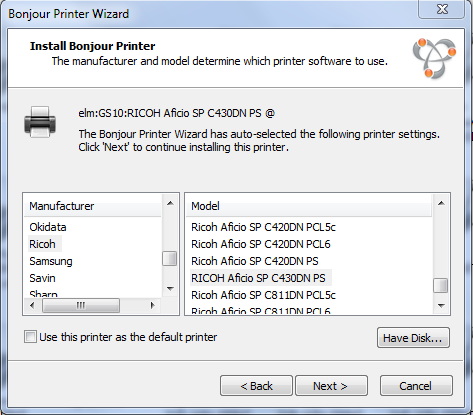 Select the manufacturer and then the model — both should be listed next to the name of the printer (see above). You can also set this as your default printer at this point if you wish.
Click on Next. You should then see something like the following: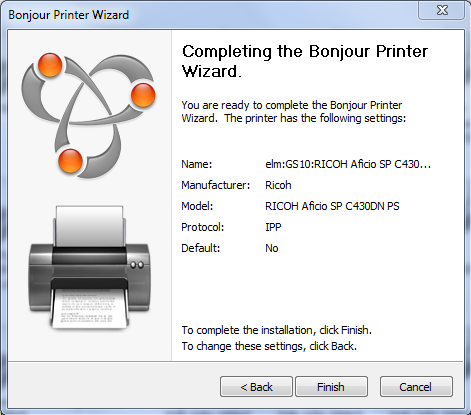 Select Finish. The printer is now available to use.
Connecting directly to CUPS
To add a new printer, you need to know exactly which printer you want to use, along with its make and model. You can find that information on the CUPS printer list.
Open the Start menu, click on Settings and select the Devices and Printers tab. Click on the Add printer button at the top of the window and select The printer that I want isn't listed.
Select the option 'Select a shared printer by name' and type in https://cups-serv.cl.cam.ac.uk:631/printers/ and the printer name of your choice as shown in the example below (printer name is highlighted).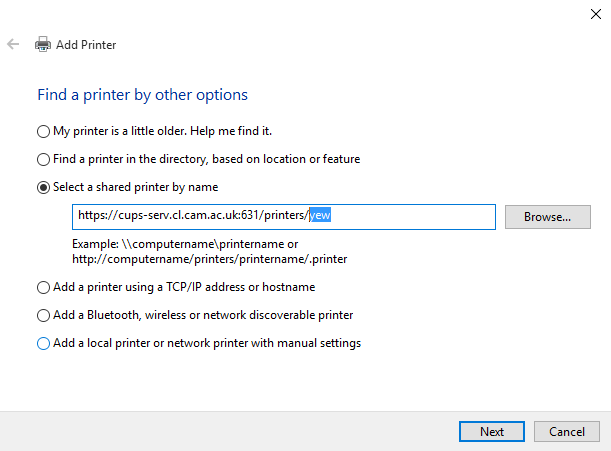 Click Next. You will be asked to provide the printer make and model in order to install drivers for the printer.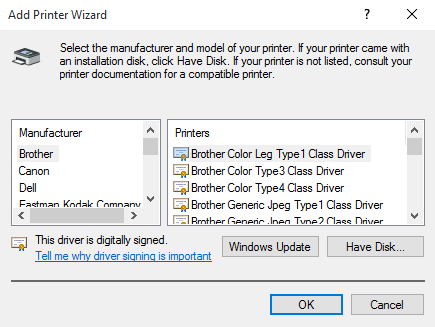 The installation will finish by offering you the option to print a test page and set this printer as the default printer.