macOS printing
There are two methods available for connecting a macOS computer to the departmental print server: Bonjour or direct connection to CUPS. Bonjour is the recommended method for users who are connected via the Mac VLAN (498) or Internal-CL network, while connecting directly to CUPS is suitable for visitors connected via the eduroam network and for users who do not wish to use Bonjour.
Do not attempt to connect directly to the printers using any other means – if you do so, your IP connection may be revoked.
Bonjour
Macs configured on the Mac VLAN or Internal-CL network have additional services available to them, including the multicast discovery of printers. To add an individual printer using Bonjour, go to "System Preferences ...", "Printers & Scanners".
Click on "+" at the bottom left of the Printers & Scanners window and choose "Default". A list of printers should appear. The Bonjour printers should be in the format printer name:location:description/model@svr-cups-1-6-2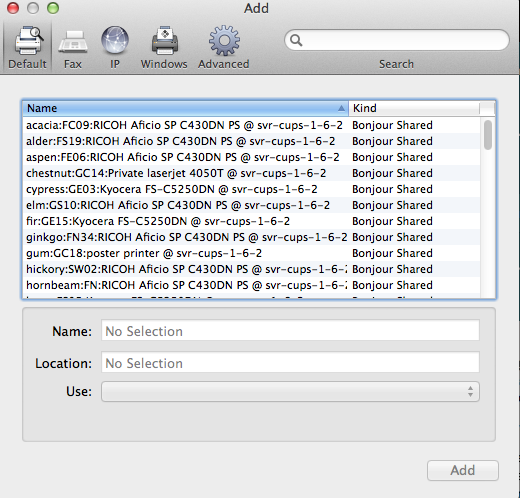 Click on the printer you want to add and the details should fill out in the boxes below.
Click "Add" and the printer will then be available to use.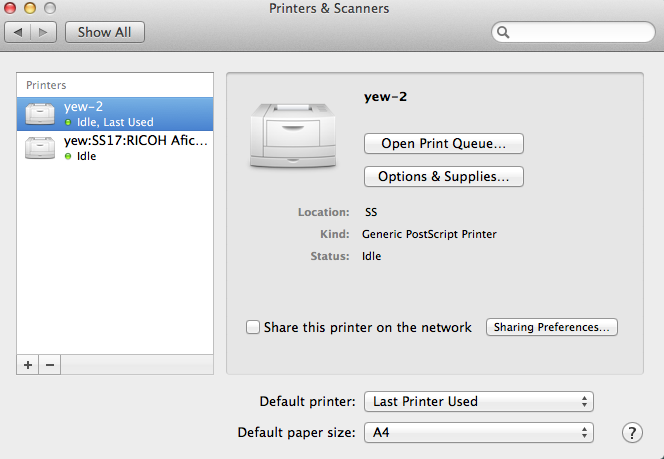 Direct connection to CUPS
To connect to CUPS directly, you first need to add the 'Advanced' tab to the printer manager:
Open "System Preferences ...", "Printers & Scanners"
Click on "+" at the bottom left of the Printers and Scanners window.
If the window does not have an "Advanced" icon, right-click in the space to the right of the "Windows" icon and choose "Customise toolbar ...".
Drag the gear icon labelled "Advanced" to the right of the "Windows" icon in the toolbar, then click "Done".

Once you have added the "Advanced" icon, click on it and fill out the window as follows (see example photo):
Type: Internet Printing Protocol (https)
Device: Another Device
URL: https://cups-serv.cl.cam.ac.uk:631/printers/printer name
Name: insert a name for the printer
Location: leave empty
Use: select the driver you want to use — "Generic Postscript Printer" is often adequate.
When complete, click Add.
Repeat this process for each printer you wish to add. If you want to install a particular printer driver, make sure you check the list of printers for the exact make and model of the printer.