Reception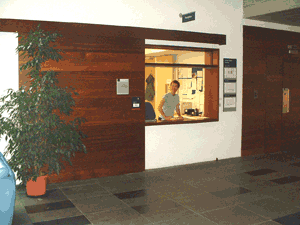 Reception opening hours:
Monday to Friday
08:30 am to 5:00 pm
Enquiries:
01223 - (7) 63500
email: [Javascript required]
If Reception is closed, you can try the Student Administration window, or use the telephone located outside Student Administration, on The Street.
(There is a Computer Lab telephone directory by the phone).
If you are expecting a visitor outside of reception opening times, please make adequate arrrangements to meet them.
Room Bookings
For Computer Lab members only
To book at room in the Laboratory, email Reception with the following information:
Date
Time
Room
A short title of the meeting
The name of the person responsible for the booking
Any special requirements - equipment, refreshments, etc.
(a grant code for payment of refreshments must be provided)
It is important that everyone follows this procedure in order that reception can keep accurate records and avoid mistakes being made - i.e. double-booking.
Reception will email you by return to confirm the booking has been made.
You can check availablity on the Room bookings page. (Your Lab login details are required to view the timetables).
Facilities
Stationery
A few commonly used items such as envelopes are kept in the Reception office. For anything else, please go to Stores.
If the item is not already in stock, it will need to be ordered, which will require you to get permission from your budget holder.
Fax machine
The Computer Laboratory fax machine is located in room GC03.
The fax number is: +44 (0)1223 334678.
If people send you a fax to this number, the secretaries will put it in your Pigeonhole.
Directions for use:
Dial 9, followed by the fax number you are sending to
Place your sheet of paper face down AND upside down (i.e. you can't see what you are sending)
Press the Start button to send
After a few minutes you will receive a printed message from the fax machine telling you if your submission worked
If you want to cancel sending after having pressed the Start button, press the Stop button twice
You can then retry the whole procedure.
If you are not sure about the procedure, please ask the secretaries for help.
Laminating machine
Directions for use:
Turn on the machine and let it warm up. (The green light will come on when warm enough)
Place your document in a plastic pouch (found on the shelf above the laminating machine)
Then place the pouch in a cardboard sleeve (found on the shelf above the laminating machine)
Press it by hand to make sure that there are no bubbles between the document and the pouch
Let the document go slowly through the machine
Turn off the machine when finished
Post
Royal mail is delivered daily in the morning and is sorted into the pigeonholes (allocated to staff and PhD students) by the reception staff.
If you receive any post which required a signature, you will be informed by reception either by email or via your pigeonhole. Your post will be kept by reception until you come to collect it.
The free internal University mailing service (UMS) has collections twice a day Monday - Thursday (at 11:00 and 15:15). There is only one collection on Friday at 11:00.
Franking machine
All post (unless it is UMS post) is franked by the secretaries.
If you have personal mail you need sending, and do not have stamps, then the secretaries can frank your post too.
All franking for personal mail must be paid for at time of posting.
There is a post weighing machine which calculates 1st and 2nd class post, and post for overseas.
Letters and packets will be measured by the Royal Mail sizing guides, and charged accordingly.