Google Android is an open-source Java platform for mobile phones. We have a number of projects for interested students wishing to do software development for the Android platform.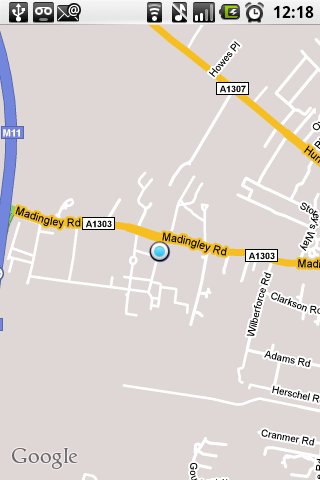 Anonymous data delivery
Project: port an existing java client (such as Onion Coffee) for the Tor network to android. Tor is an overlay network for anonymous data transmission and we'd like to enable its use from a mobile phone. One particular application we have in mind is anonymous contribution of sensor data collected by users who wish to preserve their own location privacy
Supervisor: Dr Alastair Beresford
Audio Networking
Project: implement audio networking for the Android handset. Audio networking uses audible sounds for transmitting data. We have a number of applications in mind for this on the phone. Interested students should read this paper first: Anil Madhavapeddy, Richard Sharp, David Scott, Alastair Tse, Audio Networking: The Forgotten Wireless Technology. IEEE Pervasive Computing, Volume 4, Number 3, Pages 55-61, IEEE Computer Society, July 2005. [pdf]
Supervisor: Dr Andrew Rice
Location Aware Applications
Project: implement some location aware applications for the Android handset. Particular ideas include: smart lookup of public transport timetables based on your location; journey recording for carbon footprinting or highlighting alternative transport strategies. Another example might be automatic route planning on public transport, with which a user can receive directions on foot to a busstop and/or railway station etc. This project will probably involve writing some spatial indexing code for the handset. Please see this paper: Robert Harle, Spatial Indexing for Location-Aware Systems. Proceedings of the Fourth Annual International Conference on Mobile and Ubiquitous Systems: Networking & Services (MobiQuitous 2007), IEEE, August 2007. [pdf]
Supervisor: Dr Andrew Rice
Peer-to-Peer Overlay Network
Project: As the intelligence and power of mobile phone handsets continues to increase so will the demand for more flexible networking. The first scenario is peer-to-peer connections between phones, either for chat, gaming or other data exchange - if the phones are close by one would expect the use of bluetooth or a local area network. If they are far apart then direct connection over the 3G network is the only option. This project involves the construction of a Skype-style overlay network so that users can directly connect to each other where possible and connect through a super-node when not. Another application would be to permit push-data to the phone - an example might be putting new audio files on your handset by pushing them from your desktop machine.
Supervisor: Dr Andrew Rice
Language learning
Project: There are a large number of services for mobile phone users which rely on simple functionality such as SMS messages. Smartphones have sigificantly more capability and capacity than traditional handsets and we are interested in how we might exploit this to build a next generation services platform. We are seeking to understand more about what is desirable by implementing some example applications. This project is to produce an implementation of a language learning application which integrates with the phone and the network providing appropriate, customised content and feedback to the user and also collecting learning statistics for the provider.
The project application will be derived in consultation with Professor Mike McCarthy. Professor McCarthy is one of Cambridge University Press' leading authors in language learning texts.
Supervisor: Dr Andrew Rice, Dr Paula Buttery (RCEAL, English Department / Computer Laboratory), Professor Mike McCarthy