HOME UP &nbsp PREV FURTHER NOTES NEXT (SoC Example: Helium 210)
---
Clock Domain Crossing Bridge
A clock-domain-crossing bridge is needed between clock domains.
The basic techniques are the same whether implemented as part of an asynchronous FIFO, a SoC bus bridge or inside an IP block (e.g. network receive front end to network core logic).
The same techniques apply when receiving asynchronous signals into a clock domain.
The following figure illustrates the key design aspects for crossing in one direction, but generally these details will be wrapped up into something like the domain-crossing FIFO shown earlier.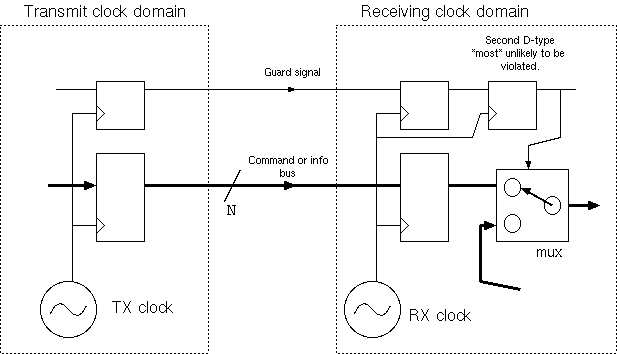 Design principle:

Have a one-bit signal that is a guard or qualifier signal for all the others going in that direction.
Make sure all the other signals are settled in advance of guard.
Pass the guard signal through two registers before using it (metastability avoidance).
Use a wide bus (crossing operations less frequent).

Receiver side RTL:

   input clk;  // receiving domain clock
   
   input [31..0] data; 
   input req;
   output reg ack;


   reg [31:0] captured_data;
   reg r1, r2;
   always @(posedge clk) begin
        r1 <= req;
        r2 <= r1;
        ack <= r2;
        if (r2 && !ack) captured_data <= data;

---