Information for Mac OS X users
OS X printing
There are two alternative protocols available for connecting an OS X computer to the departmental print server: CUPS via Bonjour or CUPS via IPP over https. The latter method should work from most wired and wireless networks, Bonjour is on certain wired VLANs only.
Do not attempt to connect directly to the printers using any other means – if you do so your IP connection may be revoked.
CUPS using IPP over https
To use the CUPS printing system over https, you first need to add the Advanced tap to the printer manager. Open "System Preferences ...", "Printers & Scanners". Click on "+" at the bottom left of the Printers and Scanners window. If the window goes not have an "Advanced" icon then right-click in the space to the right of the "Windows" icon and choose "Customise toolbar ...". You should then drag the gear icon labelled "Advanced" to the right of the "Windows" icon in the toolbar, then click "Done".

Once you have added the "Advanced" icon click on it. In the "Type" pulldown select "Internet Printing Protocol (https)" as shown. In the "URL" bow enter the printer in the form shown. Fill in a name so you can recognise it, a location and a driver to "Use" - "Generic Postscript Printer" is often adequate. When complete click "Add". (If you want to install a particular driver then you need to check with details using the web links at the bottom of this page.)
The printer should then be available to you. Repeat the last stage for each printer you wish to add.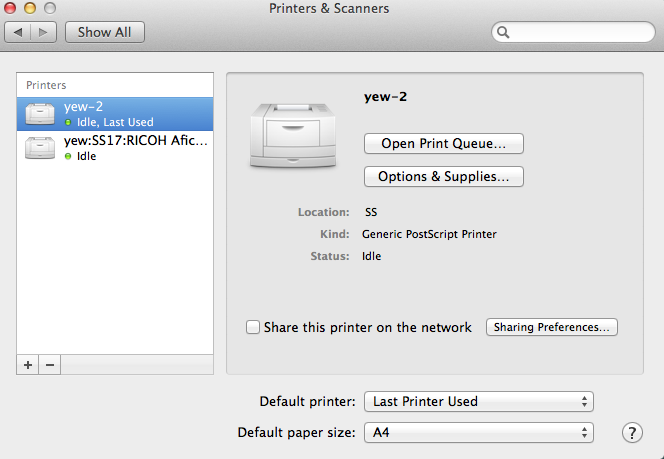 If the printer is a Kyocera Ecosys P6030 then you need to download the driver bundle from Kyocera and install it and then choose the KPDL driver.
CUPS using Bonjour
Macs configured on the Mac VLAN have additional services available to them including the multicast discovery of printers. To add an individual printer using Bonjour, go to "System Preferences ...", "Print & Scan".
Click on "+" and choose "Default". A list of printers should appear. The bonjour printers should be in the format printer name:location:description/model@svr-cups-1-6-2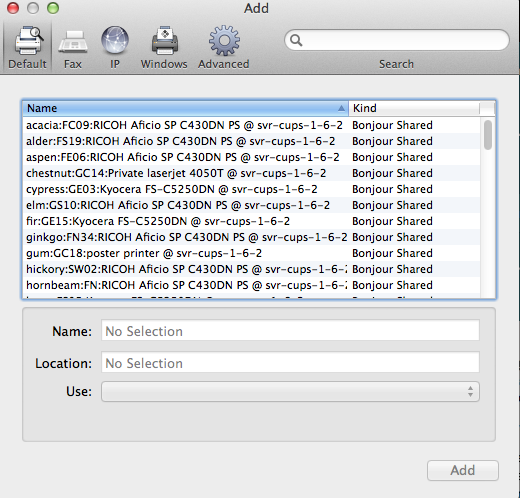 Click on the printer you want to add and the details should fill out in the boxes below.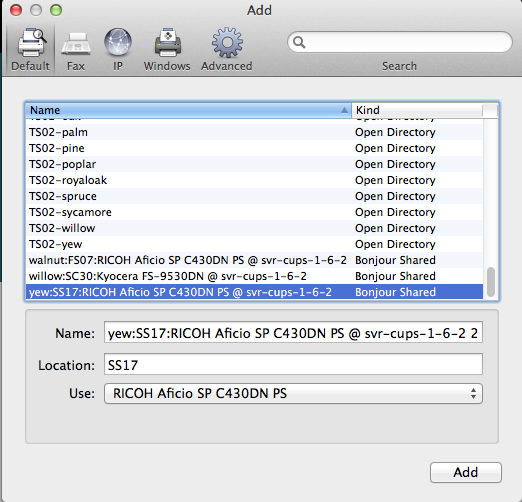 Click "Add" and the printer will then be available to you.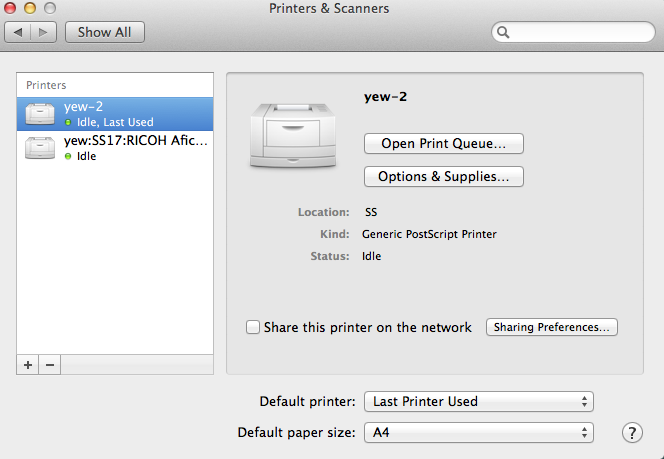 See also