---
Robert Matthew Johnson-Marshall (RMJM)
---
The architects who won the competition (and will be designing the new computer laboratory building) are RMJM (Robert Matthew Johnson-Marshall).
The following information is from http://www.iprs.ed.ac.uk/bulletin/1996-1997/04/exhib.html
RMJM is currently the largest architectural practice in the United Kingdom. With an annual fee turnover of 8 million, RMJM employs 400 people worldwide and has won numerous design awards in its forty year history. RMJM offers multi-skilled design capability embracing architecture, planning, engineering and landscape and interior design.
The following information is from http://www.iprs.ed.ac.uk/bulletin/1996-1997/04/exhib.html
The RMJM practice was founded by Sir Robert Matthew, the first Professor of Architecture at Edinburgh University and a prominent Scottish practitioner.

The business was founded in 1956 as a partnership between Robert Matthew and Stirrat Johnson-Marshall with the founding of the two offices in Edinburgh and London, the two capital cities.

Robert Matthew was Professor of Architecture at Edinburgh University from 1953-1968, where he established a new department which pioneered the widening of the curriculum from an arts biased perspective to a broader skill base and established planning and architectural research units. This broadening of the architect's education took root in the practice itself which is multi-disciplinary and to this day trades as architects, civil and structural engineers, building services engineers, planners, landscape architects, space planners and interior designers.

Robert Matthew was a distinguished civil servant, having been Chief Architect and Planning Officer at the Department of Health for Scotland and culminating in his role as Chief Architect to the London County Council from 1945-1953. Likewise his partner Stirrat Johnson-Marshall had devoted much of his life to the public domain. The impact of these two backgrounds on the expanding business was inevitably a social architecture servicing reconstruction and growth in health, education, housing and public buildings.

Robert Matthew's professional interest in internationalism (he had been, in addition to President of the RIBA, also President of both the International Union of Architects and the Commonwealth Association of Architects) was also eventually mirrored in the business which now operates internationally with offices in the United Arab Emirates, Hong Kong, Bangkok and Manila.
RMJM were also the designers of the New Cavendish Laboratories in West Cambridge shown below. Our building will be just behind this one.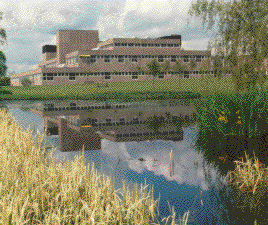 The Old Cavendish were our neighbours in the New Museums Site, before they moved out to West Cambridge.
RMJM were also the designers of Homerton College.
The chief designer for our new building will be Geoff Cohen (on the left below) and the briefing specialist will be Graham Hunter (on the right).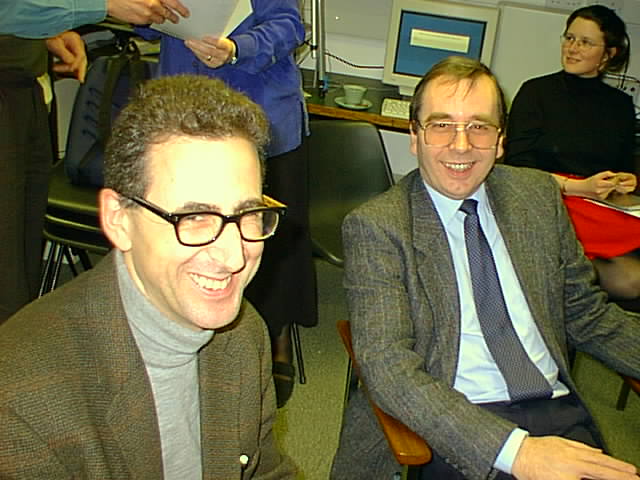 ---
This page is maintained by Mike Gordon.